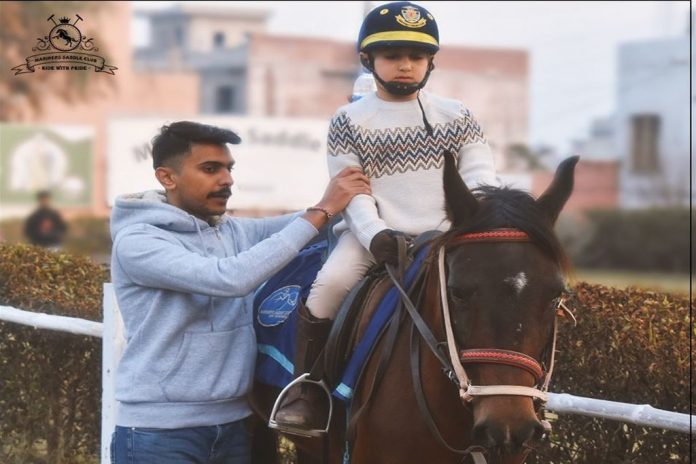 Best Horse Riding Schools For Kids: Riding a horse is enjoyable and exhilarating (especially when you're cantering and the wind is rushing through your hair). It's also a good form of workout. A half-hour riding instruction burns around 205 calories! So, while it won't quite burn off a chocolate bar, it's a better alternative to sitting on the couch watching TV. Instead, you might discover that you have a new addiction: horses. Don't say we didn't warn you learning how to ride a horse is only the beginning.
Best Horse Riding Schools For Kids in Lahore
There are so many places offering horse riding lessons for all age groups people but in this article, we will tell you about the best horse riding schools in Lahore.
Lahore Polo Club
The Lahore Polo Club is located in the city's heart, which is known for its gardens and historical monuments. Today, the Lahore Polo Club stands tall and gracefully, exuding an aura of excellence that anyone who visits the grounds can sense.
Riding school of Lahore Polo Club
A Riding School was established in the facilities of the Lahore Polo Club not long ago, in response to the growing interest of the Lahore residents. Today, the riding school welcomes men and women of all ages who want to experience the thrill of equestrian talent or play the spectacular game of polo. Expert trainers prepare their students in all aspects of equine activity, and riders are taught everything they need to know. Students, CEOs, and professionals have their own schedules, arrangements, and rates. The Riding School has the distinction of being the only one of its kind with the most up-to-date lighting system, allowing you to enjoy a riding session after sunset.
Facilities in school for Horse Riding Schools For Kids
Children's riding lessons.
2. Exclusives get a riding lesson (under floodlit)
3. Polo Grounds Polo (under floodlit)
4. Professional Stick n Ball instruction.
5. Horseback riding.
6. Stable management lessons
Lahore Garrison Saddle & Polo Club – Riding School
It is one of the famous riding schools in Lahore. This is an excellent place to learn horseback riding and polo. It is quite cost-effective when compared to other private establishments that provide similar services. There are skilled and trained instructors who provide outstanding mentoring and ensure that each student develops into an expert horseman.
Epidemie Lahore
If you want to learn how to ride a horse, this is the place to go. Eqidemie begins leading horse rides with youngsters as young as four years old and continues until they are confident and balanced enough to rise to the trot. They have a weekly schedule of lessons that keep riders of similar abilities together in groups of no more than ten. This school is offering different options for learning horse riding. 
Epidemie will sign up pupils directly from your school or through your school's athletic department. The school/parents will be responsible for getting the pupils to Equidome Arena on time for their classes and lessons.
Horse Riding School Near me
This option is for schools that have the ability to build a riding arena on their school grounds for Riding Lessons. Epidemie will transport their horses and instructors to the school for Riding Lessons. The horses will return to Equidome Stables once their riding lessons are completed. The School will save the extra expense of establishing and maintaining stables, horses, and employees if this option is chosen. School pupils will be able to receive quality riding instruction and training without having to leave the safety of the school grounds. The school will also be able to brand the riding program under its own sports and extra-curricular program, as well as keep a close check on their kids' lesson and training progress.
Epidemie will provide the following services to schools or institutions with larger campuses and numbers of students that wish to have a full-fledged horse-riding program on their campus.
Stables, riding arenas, and other related facilities are designed and built perfectly.
2. Horse selection, acquisition, and training for various levels
3. Stable Management and Stabling Services
4. Providing Training and Conducting Lessons
5. Procurement of fodder and feed
6. Training and management of human resources
Horse Riding Schools For Kids Conclusion
These are the best riding schools in Lahore. You will get a perfect one for you by reading this article and for further information visit the official pages of these schools.