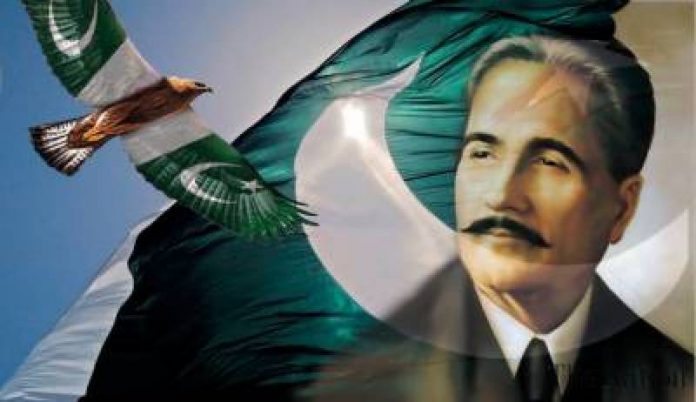 14 August Allama Iqbal Poetry: As a national holiday in Pakistan, Independence Day is marked every year on August 14. It honors the day in 1947 when the British Raj ended and Pakistan became an independent nation. The Pakistan Movement led to the creation of Pakistan. The day of independence fell on Ramadan 27, which Muslims consider to be a holy day, according to the Islamic calendar. In the history of Pakistan, individuals with names like Muhammad Ali Jinnah, Allama Muhammad Iqbal, and Sir Syed Ahmad Khan are frequently mentioned. The actual founder of Pakistan is Muhammad Ali Jinnah, sometimes referred to as Quaid-e-Azam. With his passionate poetry, Allama Iqbal inspired Muslims to think for themselves and establish their own identity and reputation.
ALLAMA IQBAL'S ROLE IN CREATION OF PAKISTAN
Iqbal was a poet-philosopher whose works addressed the intellectual and cultural rebuilding of the Islamic world as well as the promotion of the idea of self-hood. At his presidential address to the All-India Muslim League's 25th session in Allahabad in 1930, Iqbal discussed the relationship between nationalism and Islam, the unity of the Indian nation, and the need of defense.  Muhammad Ali Jinnah received two letters from Iqbal in 1937 in which Iqbal shared the vision of a separate country. While Jinnah is credited with shaping this vision, Iqbal is said to have provided the original inspiration for Pakistan.
14 AUGUST ALLAMA IQBAL POETRY
1- Hai Kis Ki Ye Jurrat Kay Musalman Ko Tokay
Hurriyat e Afqaar Ki Naimat Hai Khudadaad
Chahay To Karay Kabay Ko Atish Kada-e-Paras
Chahay To Karay Is Mein Firangi Sanam Abad
Quran Ko Bazeecha e Taweel Bana Kar
Chahay To Khud ik Taza Shariyat Kre Ejad
Hai Mumlikat-e-Hind Mein Ek Tarfa Tamasha
Islam Hai Mehboos Musalman Hai Azaad.
2- Tu Shaheen Hai Parwaaz Hai Kaam Tera
Tere Samne Asmaan or Bhi Hain.
3- Hairat Hai K Taleem-o-Tarraki Main Hai Peeche,
Jis Qaum Ka Aghaaz He IQ'RA Se Hua Tha.
4- Hiqmat e Mashrik-o-Maghrib Ne Sikhaya Hai Mujhe
Aik Nukta K Ghulamon K Liay Hai Akseer
Deen Ho, Falsafa Ho, Fikr Ho, Sultani Ho
Hotay Hain Pukhta Aqaaid Ki Bina Par Tameer.
5- You Are Neither For The Earth Nor For The Heaven
The World Is For You And You Are Not For The World.
6- The Ultimate Aim Of The Ego Is Not To See Something,
But To Be Something.
7- Islam Is Itself Destiny and Will Not Suffer Destiny.
8- Rise Above Sectional Interests and Private Ambitions – Pass From Matter To Spirit,
Matter is Diversity; Spirit is Light, Life And Unity.
9- Dil Se Jo Baat Nikalti Hai Asar Rakhti Hai,
Par Nahi Taaqat-e-Parwaaz Magar Rakhti Hai.
10- Shaheen Kabhi Parwaaz Se Gir Kar Nahi Marta,
Pur Dam Hai Agar Tu, To Nahi Khatra-e-Iftaad.
On this 14th August share this heartfelt poetry of Allama Iqbal with your loved ones.
For more Articles, Visit: story.com.pk