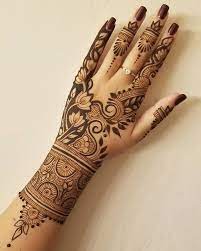 Backhand Mehndi designs: Mehndi on backhands looks very pretty and amazing. If you're planning to get mehndi on your fingers, simple mehndi designs are a great choice. In this case, if you do not have much patience for long Mehndi designs, you may want to consider finger mehndi designs or small henna designs for all your pre-wedding ceremonies. mehndi is the best part of Eid for girls. So, that's why we are here to share some amazing designs with you this Eid.
So, in this article, we will give you different types of mehndi designs that you can apply to the back of your hands.
Famous  Mehndi Designs
Any backhand mehndi design can be used for any occasion. For a minimalist wedding henna design, for a bridesmaid, or when you're not in the mood for an intricate mehndi application. It's easy to make the designs below if you have some drawing skills, so you can make use of your expertise for these patterns. So, below are some famous backhand mehndi designs that you can easily apply to your hands. They will look great.
Simple Designs of mehndi
Simple designs of mehndi cm easily drew by anyone so, you don't need any professional mehndi artist for mehndi. simple mehndi designs look very cool and unique. you should definitely go with them. furthermore, you don't need an expert for this.
Glitter Designs
Glitter mehndi looks very different and unique on the backhand. Here we are sharing some glitter mehndi designs for those who love to add a little glitter to their mehndi. Furthermore, you should choose any design and apply it to your hands. these designs are not only for Eid, but you can also use them on different other occasions like weddings, Nikah, and engagement ceremony. Thanks to visit this site.