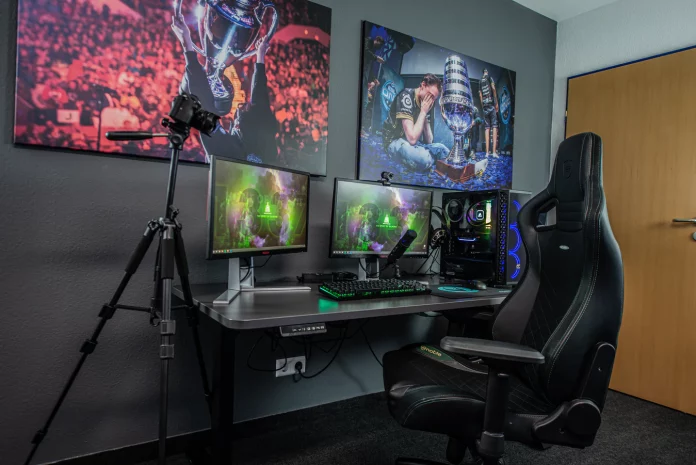 Are you looking for a comfortable gaming chair to ease your back pain while gaming? Nowadays e-sports has become very common. People of any age especially young individuals are so into it. Where it is an activity to spend good leisure time, it can become a pain to your physical health as well.
Seating in weird positions for a long time will cause spine/back issues that may take a longer time to cure completely. For this, one should have comfortable seating to maintain a good posture and prevent back issues such as lumbar pain.
Here are some futuristic gaming chairs with advanced features and comfortable seating that aid to improve posture and back pain.
Best Gaming Chair for Back pain
DXRacer P Series GC-P188-NW-C2-01
It is a combination of white and black color PVC leather seats with a swing mode and wide-angle adjustment for a backrest. The design and P series set up a dominant gaming look for the chair. The seat is designed to provide comfort to your neck and lumbar region.
It comes with extra padding that is used helpful to seated in any position. DX Racer gives support to your back with its adjustable backrest with angle support of 90° to 135°.
Arozzi Verona V2-Gaming Chair for Back pain
Arozzi Verona V2 is an advance gaming chair with a high backrest and height adjustment that prevents you from bad posture and back pain. It comes up more seating space, recline angle of 165°, and a tough metal frame that supports 231 lbs.
The seating is up with gaming aesthetics. It is equipped with two soft pillows; one gives support to the lumbar region of the back and the other one to your head and neck.
It can be locked to an upright position and unlocked to tilt back and forth up to 12°. The armrests are on single-dimension adjustment topped with pads giving comfort to your forearms and elbows.
1st Player FK1
It is a brand of improvising gaming experience and now has gaming chairs in the product line. This model is all set to provide comfort with its butterfly mechanism. The metal base chair is padded with molded foam, a 2D armrest position, and an angle adjuster of 90° to 170°. It is available in blue and black colors.