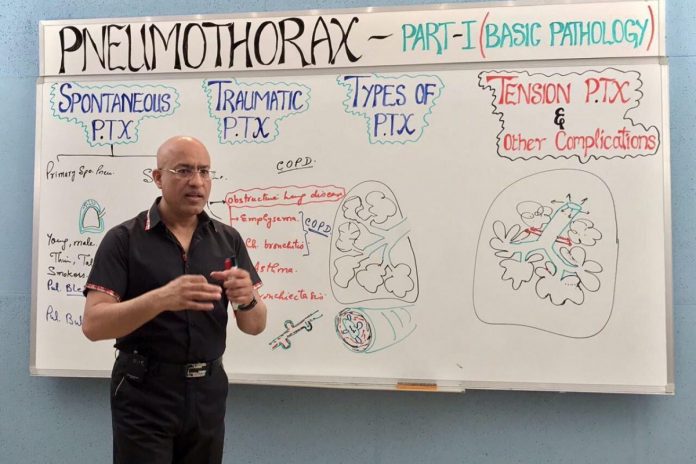 Dr. Syed Muhammad  Najeeb is commonly known as an internal medicine specialist.  He is a professor at – King Edward Medical University. His lecture videos on various subjects of the medical field help most of the students worldwide.
Dr. Syed Muhammad Najeeb
He was born on the 10th of December 1964 in a small town near Lahore, Pakistan. A doctor by profession, Pakistani by nationality & a teacher by passion. He is currently 54 years old.
Educational Background of Dr. Syed Muhammad  Najeeb
He completed his undergraduate degree in Bachelors of Medicine & Surgery from one of the oldest & the most prestigious institutes of Pakistan known as King Edward Medical College from 1987-1991. He did his post-graduation in the USA. During his graduation life, he was one of the most brilliant students at school. Dr. Syed Muhammad Najeeb is a self-made man as he was not born with a gold spoon in his mouth. He himself admits that he was born in a family that was living under the line of poverty.
He used to sell sweets & candies during the day & study at night. Dr. claims that 35 Years ago he used to sit under a street light trying to prepare for his exams. While all his friends played, he chooses to focus on his education and his passion for medical sciences led him to where he is today.
Personal Achievements of Dr. Syed Muhammad Najeeb
His YouTube channel is the single most liked channel among medical students from all over the world. He is the only teacher who is famous from South to East & North to West equally.
YouTube channel has crossed the milestone of 1 million subscribers with 75,379,109 lifetime views.
His website has 800+ paid videos on Basic Medical Sciences & Clinical Medicine with over 2 million Paid Subscribers.
All videos basically start with the Anatomy and physiology of the disease and run a clinical course up to the management. His teaching helps everyone understand the concepts and his simple language of teaching adds to his credentials.