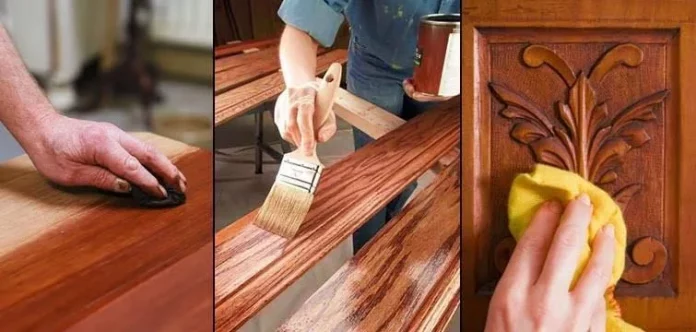 Best Furniture Polish Services – Your home is a heaven for you from the outside world. We furnish our homes with articles that give us a cosy feeling. Furniture plays an important role in providing that comfort level, which is necessary for a healthier lifestyle. Moreover, creativity plays its part in setting new trends in the furniture industry. With time, new designs and styles are being introduced in the market to improve the comfort level as well as decorum.
Furniture polishing has been done since the beginning of time. The purpose of polishing wood is to provide a protective layer on the exposed surface of wooden furniture. This layer provides the wood with its unique oil and wetness while also providing a finish that might be reflective, non-shiny, matte, and so on.
Furniture is the essence of an elegant place. Worn-out and rough furniture bring down the grace of the place. But buying everything from the start puts a lot of pressure on your budget. Wood polishing is an awesome alternative that can renovate your furniture, making it brilliant and glossy as new. To avoid the deception of fake and unprofessional,  have a look at the best furniture polish service in Lahore.
Best Furniture Polish services in Lahore
We all know how the families in Pakistan hold their wooden furniture legacy close to their hearts. It will be difficult for them to even replace them!
However, we all know that after a certain amount of time, wooden furniture loses its typical glitter, regular oil, and moisture, making your furniture prone to injury due to regular wear and tear, as well as the frustrating issue of termites in Lahore! Consider wood polishing services in Lahore and Karachi to address this issue and restore the former splendor, shine, and glitter of wooden furnishings.
Woodmart Furniture upholstery and furniture polishing services
Woodmart furniture is a brand that deals both in furniture manufacturing and its maintenance. They believe in providing a hassle-free service to their consumers with the ultimate goal of achieving customer happiness. Their experts have earned the distinction of being the best furniture polishing services expert supplier in Lahore when it comes to furniture polishing services. They provide wood polishing services for a variety of wooden furnishings and flooring. The nicest aspect is that you may decorate your furniture with a variety of colours and tones of finish.
To give your furniture a refined and lustrous shine, you can choose from a number of different furniture polishing types. Polishing furniture with varnish polish is a fairly common and popular approach. The end result is a protective finish that is both transparent and durable. The most conventional method of furniture polishing is French polishing, which involves applying thin coats of polish to a high-gloss surface to create a rich color contrast. By applying thin caot of Shellac result in stunning wooden finish. Woodmart furniture also offer services in malemine polishing which is more durable than French polishing. To avail their services you may contact on this number 03004994997
Contact for Visit: 03004994997
Bahoo Furniture and wood polishing services
If you are looking for experts for your furniture polishing, Bahoon furniture is indeed the professional you've been looking for to deal with your ancient wooden furniture and restore it to its former glory. Thier specialists have extensive experience restoring wooden furniture. They come up with professionals who are experienced at giving your furniture the beautiful sheen it deserves.
Thier painting experts will assist you in selecting the appropriate polish. They will handle the entire process for you, including determining whether the furniture in question is new or has degraded over time. The workers will talk about the type of finish you want as well as your cost. This will assist you in deciding between the three different types of wood polishes they offer: Basic Polish, Melamine Polish, and PU Polish. You can contact to on the given number for their services 03004994997.
Contact for Visit: 03004994997