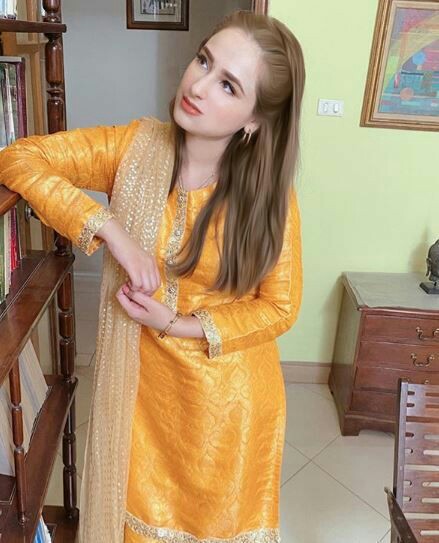 Aliha Chaudry Biography: The very recent actress known as Aliha Chaudry began to be a part of the Pakistani drama industry. She recently joining the Pakistan drama industry and becoming very popular in no days. Aliha is very attractive and has the most beautiful eyes. Aliha Ch conquered the hearts of her viewers through her acting skills and her charming looks. Here we are going to tell you something about this recently famous actress stat just started her career.
Aliha Chaudry Biography
She just started working in the Pakistani drama industry and become very famous. She started her career by performing in the latest ongoing drama known as GHISI PITI MOHABBAT". The viewers are liking this drama very much and the cast in this drama is doing a pretty hard job to maintain their standard and by giving their audience a very fine project based on reality. The actress Aliha Chaudry worked in that drama and her role of ASMARA is very different and interesting. People are loving her performance and her acting skills in that drama.
Aliha Chaudry Age
She is 26 years old
Aliha Chaudry Family
She was born in Lahore. She lives with her parents in Lahore. Aliha has two siblings one elder brother and one sister. Aliha Chaudry is the youngest one in their family. her brother lives in Canada and he is married. Her sister is also married.
Supportive Brother
Her brother is very supportive of her, due to a lot of age difference in their ages, she considers her siblings as her parents.
Aliha Chaudry Husband
Aliha Chaudry is married. She married SHANZAY. He lives in Canada and he is an architect. Her husband is very supportive he lives in Canada and often came to Pakistan to meet her. her long-distance relationship motivates her to started her career in the drama industry. she married in 2017.
Education
She studies A-level and then o-levels with commerce as her major subject. Then she does a bachelor's in film making. She chooses film making as her educational degree. Aliha Chaudry is much possessive and very nerd in her studies and gets A grades in her o levels.
Career
She was very young when started her career as a tv host. After hosting she started working as a tv actress and become an actor. Now we can see her on different plate forms in the Pakistani drama industry. Her ongoing drama GHISI PITI MOHABBAT is becoming very famous. and her role in the drama is very inspiring. Her husband is not very conservative and he is very supportive to her. That's why he gave permission to Aliha to shift from Lahore to Karachi to start her career in dramas. She started her career just 2 years ago.
Debut Drama
She made her debut in the drama serial GHISI PITI MOHABBAT.
Aliha Chaudry Hobbies And Passion
1 acting is her passion
2 she loves spicy food
3 she likes singing and painting
4 she doesn't like a lot of makeup.
5 she is an expert in art and designing
Aliha Chaudry Favorite Celebrity
Aliha Chaudry is the biggest fan of SHAHID AFRIDI and she wants to work with SHAHID AFRIDI in any tv commercial.