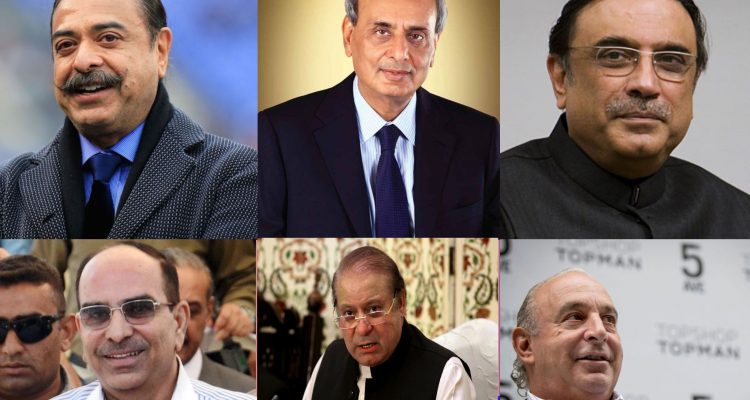 Top Pakistan's Richest Men in 2024: Pakistan is a developing country and welcomes investors from all over the world. Pakistan is on the way to success and glory, but this path is full of hurdles and obstacles. This article is about Pakistan's richest men in 2024.
Some famous people of Pakistan that are given a huge amount of wealth by the Almighty are lending a hand for a prosperous Pakistan. Allah doesn't give them wealth but they are gifted with beautiful hearts. They sponsor different events and support many people.
Pakistan's majority of the population is living their lives hand to mouth. Only a few people who are considered to be the elite class have a hand full of money. The following are the names of the top 10 Pakistan's richest men in 2024.
Pakistan's Richest Men
Shahid Khan
Shahid Khan was born in Lahore, a middle-class family but now he is an American businessman. He was declared as the richest man of Pakistan with a net worth of $8.3 billion. He moved to the United States for higher education and his first job was of washing dishes and he paid only $1 for an hour.
A self-made person who started his journey to success in 1978 by making one-piece car bumpers. In 1980, he established his own company Flex-N-Gate. This company now has 66 plants and employs 24,000 people. His main source of income is Flex-N-Gate, Jacksonville Jaguars, Fulham F.C, and All Elite Wrestling. These types of personalities are role models for youth.
2. Mian Mansha
Mian Mansha was born in the year 1947, the year in which the fate of a new country was being decided. He belongs to those 6.5 million people who migrated from India to Pakistan. His family step in the world of Textile by setting Nishat Mills in 1951.
He completed his graduation from the United Kingdom and afterward, he joined his family business. His net worth is $2.7 billion. Nishat group of mills is the largest textile exporter of Pakistan. Nishat group also collaborated with Hyundai motors in assembling vehicles from Japan in Pakistan. He also owns the Muslim Commercial Bank. He invested in different industries such as energy power plants, cement industry, and transportation.
3. Sir Anwar Pervaiz
Sir Anwar Pervaiz has made to the list of top 10 richest men in Pakistan. He was born in a low-class family living in a small village in Pakistan. But his dedication and hard work pay him in the best possible manner. Now he is the person with a net worth of $4.6 billion.
He is a major shareholder of United Bank Limited (UBL) and owner of Bestway Group. He is the richest Pakistani in the UK. In the beginning, he worked as a bus driver but after many years of devotion, he was awarded a number of awards in the UK.
4. Saddrudin Hashwani
Saddrudin Hashwani is the only civilian who was awarded Nishan-e-Imtiaz (award of excellence) for his services in the hospitality industry of Pakistan. He owns renowned motels of Pakistan pearl continental hotel (PC) and Marriot hotel. His net worth is $3.4 billion.
He began trading of cotton in the 1960s and today his industrial group is one of the largest portfolio groups of countries. He also owns orient petroleum. Hashoo group founded by him operates around three continents.
5. Asif Ali Zardari
Asif Ali Zardari is the richest politician of Pakistan. He was the 11th president of Pakistan and the husband of Shaheed Mohtarma Benazir Bhutto. His net worth is $1.8 billion. His major sources of income are diverse agriculture and real estate business.
He is a shareholder of many companies. The amount mentioned above does not include his foreign assets. This much money he made only from agriculture and real estate.
6. Malik Riaz
Malik Riaz was born in a house where there was poverty. His father was a struggling contractor. Due to a lack of basic facilities, he could not continue his studies after matriculation. Malik Riaz worked as a clerk in Military Engineer Service and that was the turning point of his life.
He gained experience from there and started his own construction business. He is considered as the biggest real estate tycoon. His net worth is $1.5 billion. His only source of income is Bahria town.
7. Mian Muhammad Nawaz Sharif
Mian M. Nawaz Sharif was an ex-prime minister of Pakistan. He is the richest person with a net worth of $1.4 billion. He is the director of Itefaq Steel Mills.
They have invested in different industries such as transportation, food, sugar and real estate. Above mention, the amount is not correct because this does not contain his foreign assets
8. Nasir Schon
Nasir Schon, along with his brother Tahir Schon owns Schon properties. His net worth is approximately $1 billion. He got his immense success when he launched his real estate project with UAE in the year 1971. He was awarded different awards by UAE.
9. Rafique Muhammad Habib
Rafique M. Habib owns a number of private sectors such as Habib Bank Limited, Habib University, Habib Metro, and Indus Motors Company. He is having a highlighted position in Pakistan's business sector. The net worth of this person is $0.95 billion. His hard work and immense business skills made him one of the richest people of Pakistan.
10. Tariq Saigol
Tariq Saigol is a person who invested a great amount of money in Pakistan's textile industry and other power companies. He owns Kohinoor-Maple Group, Saigol Motors, and Sajeel Motors, Kohinoor textile mills, and Power Company. His mighty empire makes him the wealthiest person with a net worth of $0.9 billion.