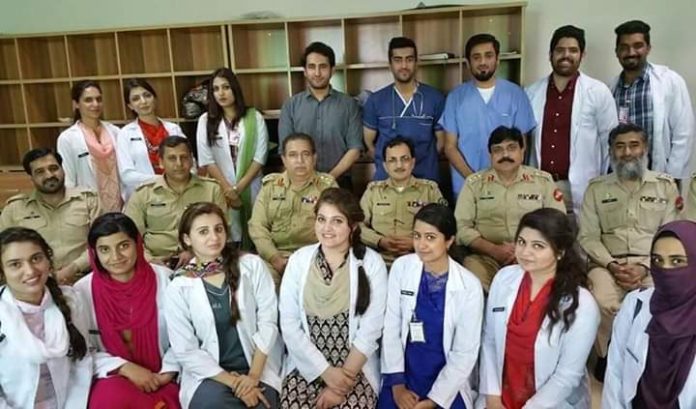 If you have done your FSC with good marks and you are looking for Army Doctor after FSC then you are at the right place. There are a lot of people who are interested to bond with the Pak Army as a doctor. Becoming a part of the military and serving the nation in any potential way is the most influential work for the youth of a country. AMC is a dream college for many medical students.
Pakistani youth is most passionate about becoming a doctor in the army, but most of them are unaware of the procedure via which they can become part of the Pakistan Army as a doctor. So we are going to share all the details and information required to become a doctor in the Army.
Army Medical College (AMC) was established in 1977 for undergraduate medical education to elected cadets. At first AMC College was affiliated with Quaid-e-Azam University, Islamabad. Later from 1998 to 2015, it was affiliated with NUST. It is now affiliated with NUMS. NUMS is a Pakistan Army Medical Corps university and has been suggested by the HEC of Pakistan.
Army Doctor after FSC in Pakistan
MBBS Course: 5 years of study at Army Medical College Rawalpindi or CMH Lahore Medical College.
BDS Course: 4 years of study at Army Medical College Rawalpindi.
Eligibility criteria for admission to the MBBS/BDS Course:
Educational Qualification
FSc (Premedical) with 70% marks.
Weightage of Subjects
Biology 40%
Chemistry 30%
Physics 15%
English 15%
Physical Standards
Minimum Height: Males. 5 ft 4 inch (162.5cm)
Females: 4ft 8 inch (145 cm)
Visual Standards and Weight
It must be according to the standards acceptable for the commission in the Army.
The applicant has to be unmarried at the time of admission.
Note: AMC also enrolls female cadets so girls can also join the Pakistan army after FSC as lady cadet through long courses.
Army Medical College (AMC) – Fee Structure FOR Army doctor after FSC
Tuition Fees
NUST Cadets Rs. 13,000 Per Month
Paying Cadets Rs. 3,000 Per Month
Foreign cadets Rs. 10,000 Per Month
Accommodation Charges
All Paying Students Rs. 3,000 Per Month
METHODS OF ORIENTATION AS CAPT DOCTOR IN PAK ARMY
1. VIA AMC
Army Medical College enrolls students as cadets and there are 2 types of cadets that are part of AMC and later on serve in CMHS:
1. PC (PAYING CADET)
2. MC (MEDICAL CADET)
1. PAYING CADETS
The applicant with army background has maximum space in paying cadet quota than any other forces especially the children of martyred have a special quota and High concession in fees too low follow their merit.
These cadets after approval wear army uniform and army recruit them in CMHs after their MBBS or BDS.
How to get registered for the NUMS TEST FOR Army doctor after FSC?
Visit the official site of NTS www.nts.org.pk
Go to 'upcoming tests'
Click on 'online registration'
Fill up the form vigilantly
Submission of form generates 'FEE CHALLAN' and 'ADMITTANCE CARD' for the test
Take out their prints
Deposit fee and paste picture on admission card
Reach on time to your selected center with an ADMITTANCE CARD
As soon as you apply for the NUMS test, receive a form from the relevant headquarter of any of the three armed forces where your parents are serving or from which they got retired. Without submission of this form, you cannot join AMC as a paying cadet.
2. Medical Cadets
This is the category of most lucky people.
First of all, there is an 'initial test'. This is a scholastic test and intelligence test.
After clearance in this test, you'll appear in the physical test where you do chin-ups, push-ups, and all other physical activities to prove your fitness.
After this, there is a 'medical test'. You are examined in CMH about your medical health.
In the last, there will be an 'interview' which will be conducted by the GHQ selection board.
Clearing all these steps to lead you to serve the army. You are offered a scholarship of 30,000 plus there is no fee for MCs.
How to apply for MC?
Go to 'induction criteria'
Select AM CADET COURSE
Read the requirements for the test vigilantly.
Registered yourself by following all instructions
Once you are completed with all tests and have passed the GHQ interview, you are deported into AMC and the rest of the army-affiliated military colleges. MC signs a bond with the army for serving it for 13 years after the completion 0f the degree.
2. AS A GDMO, SPECS, GDDO, FCPS, AND PTC IN PAK ARMY
FCPS is for classified specialists and 'PTC' is 'Pakistan temporary commission'.
GDMO
GDMO stands for 'general duty medical officer'. This is a course that is offered by all three armed forces of Pakistan i.e. navy, air force, and army. Anyone who is not serving as a specialist is a GDMO in the Pak army. Even specialists can also work on GDMO roles in certain situations.
After clearance, you are given the rank of Capt. The doctor posted in any CMH. But only boys can apply for GDMO after BDS, girls can go for it if they have an MBBS degree. Age should be in between 28 years to 35 years.
SPECS
SPECS stands for 'classified specialist'. Specialists are informally called SPECS. These are the people who have specialization in anesthesiology, pathology, basic medical sciences, and gynecology (only females), the surgeon as well. They are inducted as CAPT. DOCTORS.
GDDO
GDDO means 'general duty dental officer'. Only males with a BDS degree can apply for GDDO with an age relaxation for up to 35 years.
PTC
'PTC' is 'Pakistan temporary commission' Only males can apply with an age limit of 35 years.
ONLINE REGISTRATION IN ARMY AFTER FSC
If we converse about the registration formula, it is done both online and offline. For online, go to the official website of the Pak army website and get registered. The candidate must have a computerized roll number slip on the day of the test and must pay the prospectus fee before the test. Test dates and centers are never changed.
AS & RCs
These are ARMY SELECTION AND RECRUITMENT CENTRES. The candidate should visit the nearest selection center with documents for allotment of roll number slip. Bring that roll number slip and required documents on the day of the test.
Army Medical College (AMC) – Departments
ENT
Surgery
Pediatrics
Gynecology and Obstetrics
Anatomy
Physiology
Community Medicine
Ophthalmology
Biochemistry & Molecular Biology
Medicine
Dentistry
Pharmacology and Therapeutics
Pathology
Forensic Medicine and Toxicology
Dental Materials
[For NC (nums cadets), Civilians, as well as Armed Forces families both, can apply. The candidate will have to appear in the National University of Medical Sciences entrance test.Final selection will be made on SSC 10%,HSSC 40%,and NUMS Test 50% aggregate.]
We've tried to clarify a lot of concepts about joining the Pak Army as a doctor. If you have any queries related to joining Pak Army as a Doctor, please let us know so that we can explain it. Good luck to all those who wanna join the Pak army. You are choosing the best for you and for your country.