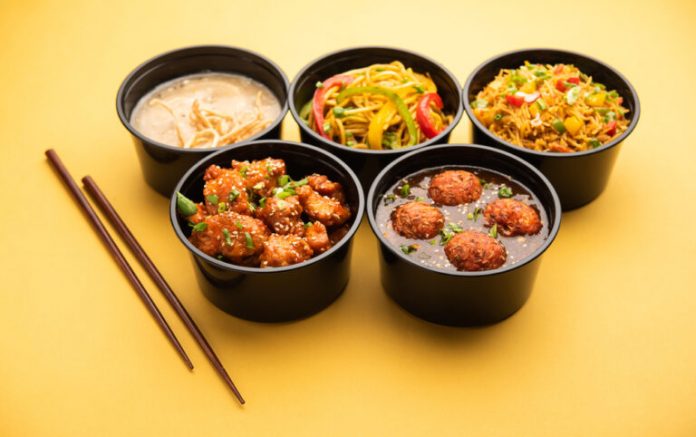 Chinese Restaurants in Lahore: Talking about Lahoris they are famous for their good taste of food and love to eat. They enjoy food and for this reason, large parties are held in which people enjoy different types of food. Lahoris are not afraid of adding a different and new taste to their meals. As we have a strong bond with china in "Pak chin Dosti zindabad". Most of our meals have a little touch of Chinese food. Chinese food is famous in Pakistan due to its simplicity and sauces and recipes. There are many restaurants in Lahore that serve authentic Chinese food. Here is the list of some Chinese restaurants in Lahore.
Best Chinese Restaurants in Lahore 2023
Chinese Restaurants in Lahore: YUM Chinese and Thai
YUM Chinese and Thai were established in 2010 in Gulberg II. YUM Chinese and Thai restaurant are one the famous Chinese restaurant in Lahore due to its quality of food. Chef's special chicken and Singapore special noodles are the most favourites of everyone. YUM's top-notch recipes include seafood, beef, poultry, and duck served with rice and chowmein. recently some complaints were seen in their customer service department but every restaurant has some complaints. Moreover, the food served it is too expensive. Overall if you want to enjoy a portion of good Thai food you must come to this restaurant.
Chinese Restaurants in Lahore: P.F Chang's
P.F Chang's is located in Gulberg III and provides you with a friendly atmosphere where you can enjoy yourself with your family and your friends. It is a pure reflection of Asian culture and Chinese food. The menu offers a tempting variety of food which includes Noodles and Rice, Sushi, Salads, Soups and sides. if you are wandering for the speciality of the restaurant, let me tell you that Mangolian beef bowl and Shrimp dumplings are among the favourites of the restaurant. Moreover, the staff is very nice and welcoming. Despite all these, the restaurant is expensive like other Chinese restaurants.
Chinese Restaurants in Lahore: Bamboo Union
Bamboo Union is considered Lahore's first Pan-Asian diner and has nurtured its quality of food among Lahore. Its enchanting interior gives you a relaxing and harmonious feel. Moreover, the sitting arrangement and wrought lamps confer a cosy vibe. The favourites of the restaurant include Tamarind Fish, Chicken Dumplings, Char-Grilled Prawns, and Sushi. Bamboo Union also offers a home delivery service all over Lahore. The restaurant also offers a special kids bowl section for kids where kids can enjoy their favourite snacks. If you want to visit the restaurant, don't forget to taste its Pad Thai Chicken and Beed Chilli Dry.
Chinese Restaurants in Lahore: Jade Cafe and China Town
China town has four branches all over Lahore. All of them are fairly good in taste but the branch on MM Alam Road, Gulberg III has aesthetic beauty which attracts the customer. The outdoor sitting arrangement increases the worthiness of the place. The restaurant offers a wide range of dishes featuring chicken, seafood, beef, prawn, fish, and bean curd & vegetables. The most enticing and delectable dishes among the restaurants dishes include Kung Pao Chicken and Beef Chilli Dry.
Chop Chop Wok
Chop Chop Wok opened its first restaurant in Karachi in 2015. Due to the quality and taste of food, Wok gained popularity and decided to open restaurants all over Pakistan. One of their branches is in DHA phase III Lahore.  They serve the most delicious food among all other restaurants.  Moreover, the soothing atmosphere increases your temptation for the food. Here you can experiment by practising self-making rich Asian cuisine by adding noodles, flavours and proteins and extras. The highly recommended refection of this restaurant is Spicy Thai Chicken and Beijing chilli beef.
Mandarin Kitchen
Mandarin Kitchen is a restaurant that offers a fusion of dishes traditional and fusion Chinese classics. It also has a wide range of Pan-Asian cuisine and other Asian signature dishes. This restaurant is located on M.M Alam road in Gulberg II. The speciality of this place is for the Hi-tea Buffet which is 1500/- per head. Mandarin Kitchen is gradually making its name in the Chinese Food Market. The customer service is very friendly and respectful. The overall aura of this place is pleasant and one can spend a delightful time with friends and family. Highly recommended dishes of this place are Chicken Chilli Dry and Hot Braised Chicken.
Novu Pan-Asian
Novu is a mixture of Chinese and Japanese food. The Novu has a wide range of food variety for people of all ages. Its signature crunchy honey beef, spring rolls and soups are some of the best appetizers. Along with this other famous dishes are steamed dumplings, cashew chicken, and Thai soup. The Pan Asian restaurant has amazing indoor and outdoor dining that gives you a relaxing and comfortable dining experience. The staff is so efficient and ready to serve what you desire. It has many branches spread in DHA, Gulberg and Johar Town.
Sichuan Chinese restaurant
Sichuan is the oldest Chinese restaurant. The distinctive feature of this place is that its economical. Here you can spend a good family time. This Chinese restaurant offers a wonderful arrangement of a variety of dishes including soups, chicken, beef, noodles, rice, prawns, eggs, chop suey, the restaurant's mix special, and other dishes. The most eminent dishes of this place are Sichuan Special Soup, shredded chicken with mushroom, fried chicken honey drumsticks, American Chopsuey, Sweet and Sour chicken. It is located in Gulberg II, Lahore.
The Rice bowl
The Rice Bowl is famous for serving wholesome Chinese Cuisine. One of the distinctive features of this restaurant is that it started a single serving bowl system for the first time in Pakistan. This system got tremendous acceptance from students and adults as it is convenient and economical for them. Moreover, it is a good start to avert food wastage and one bowl is enough to satisfy your hunger needs. The Rice Bowl dining gives you a soothing and relaxing feel. Its menu contains a long list of Chinese and Thai food. There are three branches of this restaurant in Lahore. Main branch is located in Johar Town Lahore.
Dynasty
Dynasty is an award-winning Chinese restaurant giving out a variety of genuine Szechuan dishes in Lahore. There are a number of new and versatile dishes included in the menu like dim sum, soups, crab and lobster, prawns, fish, poultry, lamb, beef, hotpot, vegetables, rice, noodles, and desserts. Steamed Red Snapper, Lobster or Crab in Butter Garlic Sauce, Roasted Peking Duck, and the Twice Cooked Beef are popular dishes of this restaurant. Whereas appetizers include Seaweed and Prawn Wonton Soup and the Hot and Sour Soup along with Spring Rolls and the Steamed Chicken or Prawn Dumplings. Not only its food is tasty and delicious but the dining is so quiet. It is because it is located in one of the five-star Hotel Avari Hotel.