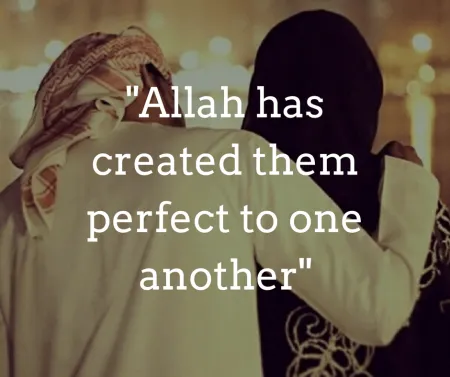 Best quotes for husband in Pakistan: Expressing love to your loved ones is difficult sometimes but especially in the case of a husband and wife relationship. Both are busy in their routine work that they do not get a chance to show their affection to each other. Mostly, it is difficult for women to express their feelings. He is your prince charming and your whole world so, find the right words to express your feelings for your husband. Here are some of the best quotes for husbands in Pakistan.
Husband Day Best Quotes in Islamic way
No doubt, the husband-wife relationship is the most sacred relationship in the world. It is a blessing from God to have a partner in life in every agony and merriment. If someone looks at the Islamic sayings, it best describes the Husband-Wife relationship. From the Islamic point of view, these sayings are considered as best quotes for husband in Pakistan.
 Ya Allah, Take special care of my Husband, bless his mind and heart, strengthen his body and soul, and make easy for him the path you wish for him to follow.
I don't need a ring. I need his deen. I'd prefer him taking me to Jannah and making me his queen.
 Oh Allah you protect my husband for you alone know how much I love him
It's forever you and me Insha Allah.
A real man will offer you, Marriage. A loser will offer you, Zina.
Love is making dua every time your husband walks out of the door for his safe return.
Ya Allah, grant me someone who will hold my hand to Jannah.
A man should be like a child with his wife but if she needs him he should act like a man.
The Holy Prophet PBUH said; The more civil and kind a Muslim is to his wife, the more perfect in faith he is.
I love my husband for the sake of Allah.
Adorable and Lovely Quotes for your Him
Cute little quotes are nice to say to your husband. Short messages always have an enduring effect and heartening to hear. From the list pick the one which you think is best for his personality.
My husband is where my love story begins
I smile and you are the reason
You are my heaven on earth.
Best friend for life husband and wife.
I can't stop thinking about you.
God, thank you for the spouse you have blessed me with
My husband is my happy place
My husband works hard every single day. I am so proud of him.
My every single prayer was always yours and will only be yours.
My husband is the invoice of my life.
I would feel happy to sacrifice myself for you.
I have you, I don't have to require anything.
What is the responsibility of a family, I learned from you.
Who makes me feel more at home than at my house? My spouse.
My heart swells with confidence and pride in the love I have for my husband.
I take pride in my work and loving you is my greatest job.
Best poetry quotes for husband
Sometimes, the feelings and expressions cannot be expressed in a single sentence. It needs a rhythmic style. Some verses can do the magic and can take him to the clouds. Some verses are listed here for you to make a selection of. Poetry verses are also considered as the best quotes for husbands in Pakistan.
My life is yours, My heart I'll live until we die and while we live.
You are the ruler of my heart, the directions of my path,rays of my hope,a moon of my night and essence of life.
You are a dream of my eyes, wish of my heart,story of my life,the truth of my future,the morning of my night.
 God protects the earth, Environment protects us,Water protects aquatic phenomena,And My husband protects Me.
Hand in hand
you and me
Today, tomorrow forever
Proud of my Husband: Best Quotes
I am a proud wife of a wonderful husband
I am so proud of my husband. He is truly one of a kind. A real man. I'm blessed to have him.
Life without you would be like a broken pencil..pointless.
I am proud of my Husband. B'coz of him, I laugh a little harder, cry a little less, and smile a lot more.
My husband is one of my greatest blessings from god. His love is a gift that I open every day.
I love my husband. I believe in him, and I am proud of his accomplishments.
Am a proud wife of an imperfect perfect husband. He is the only one in this world who can tolerate my madness.
Funny Quotes for Hubby 2023
I believe in you, so very PROUD of you. Don't ever give up, you can do it.
You make me feel so proud of being in love with you.
If someone asked me to describe you in just 2 words, I'd say..Simply Amazing. I am proud of you.
When a wife has a good husband it is easily seen in her face.
I am very proud to call you my friend, Happy to call you my love, and blessed to call you my Husband.
My husband's biggest flaws are 'He works too hard and 'He's too nice. I'm a proud wife!!
Every moment of my life is so special for me because I have a wonderful, caring, and truly special person by my side. I am so happy that you are my husband.
I am proud of you because you have made my life more beautiful than Heaven. Thanks, darling.
You give me the strength and courage to pursue my dreams, and you treat me like a queen. Am proud to have you as my husband. I love you.
I love being my Husband's wife and I am proud of it.
All the riches, the fortune, and the luxuries in this world compare nothing to the wealth of having you as my husband. I am proud of you dear.