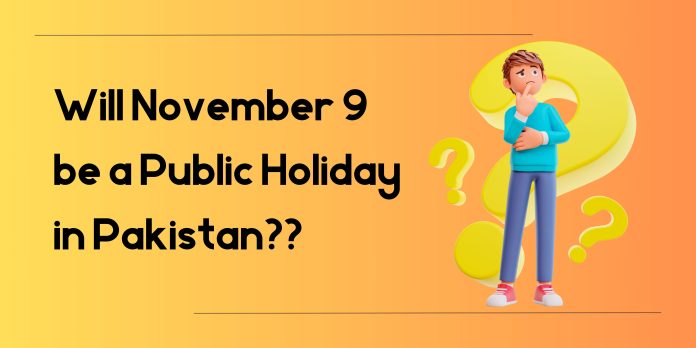 Will November 9 be a Public Holiday in Pakistan?? If you want to know about this thing then you are on the right platform. We will provide you with all information here. Just have a look at the article.
Will November 9 be a Public Holiday??
Allama Iqbal, our national poet was born on 9th November. So this day is marked as the birth anniversary of our great leader who gave us the view of Pakistan. He was such a great leader who wanted us to be a place where we could live our lives according to the principles of Islam.
Allama Iqbal also awakens the Muslims and shows them the right path through his poetry. He was a great poet and leader. His Allahabad address to the Muslims clearly showed that Muslims of the subcontinent are independent nations and cannot be merged with Hindus. They have their religion and culture.
So we celebrate his birth anniversary as a tribute to such a great leader and poet. He saw the dream of an independent Country for Muslims and Quaid-e-Azam Muhammad Ali Jinnah Fulfilled this dream into reality on 14th August 1947.
For the information about holidays keep scrolling.
Public Holiday:
The federal government has declared a holiday for 9th November to celebrate the birth anniversary of our great leader Allama Muhammad Iqbal. Guard changing ceremony is also a major thing on his birth anniversary.
Different institutes like schools, colleges, and universities also arrange an event to pay tribute to our great leader. There will be cake cutting ceremony in different places to celebrate the birth anniversary of our great poet.
Allama Iqbal said:
The ultimate aim of ego is not to see something but to be something.

ALLama iqbal
This is all about the holiday of 9th November. If you have any queries feel free to ask.
Click here if you want to know about 14th August Allama Iqbal poetry.