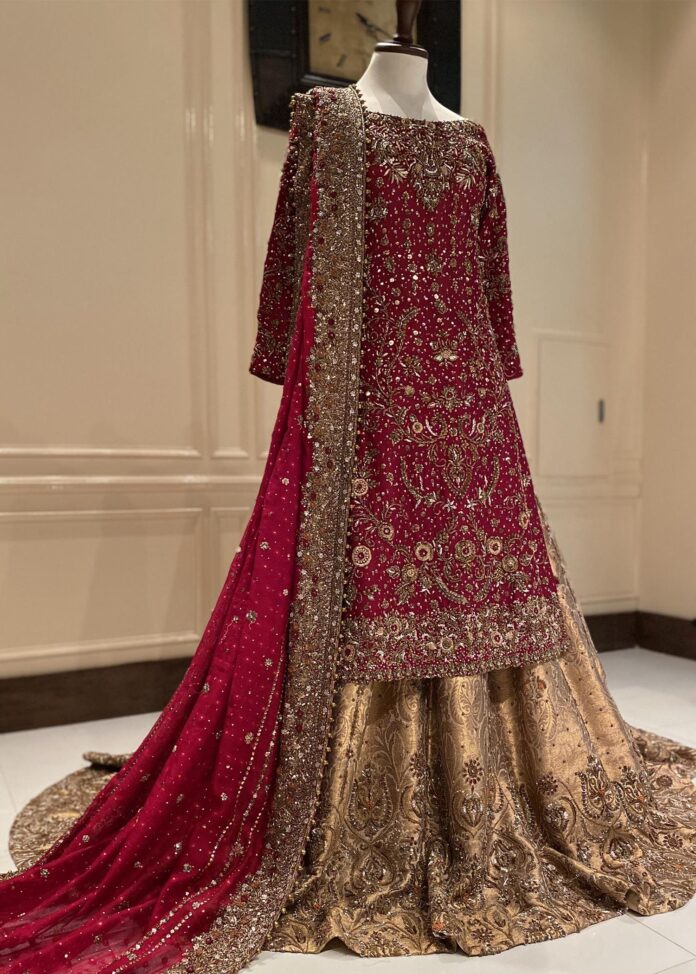 Barat dress designs in Pakistan: The wedding is the most memorable day of a girl's life. Every marriage in Pakistan has functions like Dholki, Mayan, Mehndi, Barat, and Walima. Among all these, Barat is one of the emotional functions. Because on this day, the bride leaves her home and family and enters into her new home.
Best Barat dress designs in Pakistan 2023
Barat is an event that every girl looks forward to in her life. Everything needs to be perfect, from decorations, food to clothing and jewelry. Some girls design their Barat dress, and others like to buy designer creations. Although, designer dresses are not economical. But some people believe that investing in an expensive Barat dress is needed because it is once in a lifetime moment. Every person cannot purchase a designer dress. Hence, many brides design theirs own with limited resources.
What to wear on your Barat
When it comes to your big day, many brides like to wear traditional red hues. Red with gold and silver is usually preferred by traditional brides. It looks royal and regal. Other bright and pastel colors are also making their way into the market. There are very few brides who wear white or off-white with the gold ensemble on Barat. It looks beautiful too.
The brides like to wear heavy gold jewelry. You can wear Matha Patti or Bindi and Jhoomer with earrings and a gold necklace with many layers. Many brides wear rings, armlets, and anklets. Nose rings are also popular among traditional brides.
After deciding on color combinations and jewelry style, the brides have to choose what design they want for their attire. Eastern brides commonly wear lehenga. Some brides pair their lehenga with long shirts. Sharara and Ghagra are popular among the brides. Hence, the dress design depends on your choice.
Makeup and Hairstyle for Barat
Makeup and hairstyle is the last thing that you should not neglect. Always go for a makeup look that doesn't make you look old. Many makeup artists do not listen to the bride. Therefore, you must find a makeup artist that listens to you. And they should also help you find your unique style for the Barat.
In conclusion, a Barat function is a point of delight, tradition, and beauty, with emotional touches. We hope that this island of fun adds many more memories to your wedding experience.