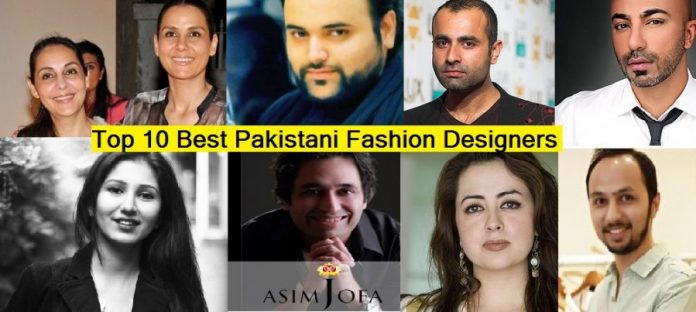 Best Fashion Designers In Pakistan: Man is nothing without the clothes. This sentence has a hidden and very powerful meaning about mankind. Clothes represent the man's modesty and elegance. Without clothes, man is nothing in society. Everyone has to wear clothes to be a part of this society. For this purpose, there are many industries and many more organizations working for clothes to fulfill the demand for clothes.
Many luxurious brands are working for clothes. Today is the age of clothing. People just want to wear clothes day and night. There is a different fashion of every day, every function, and every event. So here we are going to tell you about some famous fashion designers in Pakistan 2022.
Top Fashion Designers In Pakistan 2022
Fashion designing is one of the top-rated tasks all over the world and also in Pakistan. The concept of clothing is changing day by day. Now there is a competition between the styles who are changing the fashion trends. They are the trendsetters and trend breakers. There are many people in Pakistan who are well-known fashion designers.
At some time they are just beginners of having fashion sense but now they are at the peak of the industry. So here are the description of some top-rated fashion designers in this Pakistan industry, that how they begin the journey of designing and where are they now.
Famous Pakistani Fashion designers 2022
There are some of the very top fashion designers in Pakistan who are known by their name. These are making trends around the globe and have a keen sense of style. Fashion is not only about wearing clothes it is all about elegance and style.
Top 10 Pakistani designers 2022
The very talented Pakistani fashion designers areas:
1. HSY (Hassan Shehyar Yasin)
Hassan Shehyar Yasin also known as HSY is a very talented and award achieving fashion designer in the Pakistan fashion industry. He is an architect by profession. HSY is considered the top male fashion designer for bridal wear. He has a huge range and variety of bridal couture and party wear. His bridal dresses are the dream of many young girls. The bridal couture of the HSY is award achieving volume in the Pakistan industry.
2. Sania Maskatiya fashion designer 2022
Sania Maskatiya is a very talented fashion designer in the Pakistan fashion industry. she is also the award achiever in the famous Pakistan fashion industry for her luxury press and party wear. She also has a very vast range of bridal dresses. Many people envy her fashion styles and trends. Sania Maskatiya has the full range of simple wear to the luxury part, and also the formal wear. That is why she is a famous talented Pakistani fashion designer.
3. Zainab Chotthani Fashion designer 2022
Zainab Chotthai a very well-known Pakistani fashion designer. She owns very expensive and vast stores of designer wear. She is also the award achiever fashion designer in the Pakistan fashion industry.
4. Deepak Parwani fashion designer 2022
Deepak Parwani is a Hindu Sikh citizen of the Pakistan Fashion industry and has a huge name in the Pakistan fashion industry. He is in the nominations of hum style awards for the luxury bridal couture.
5. Sana Safinaz fashion designer 2022
SanaSafinaz is the sisters by heart and owns a fashion brand known as Sana Safinaz. She has a huge collection for girls including formal wear to casual wear. She introduces the new volumes of her collection by showing her models on the ramp.
6. Nadia Hussain fashion designer 2022
Nadia Hussain is a very talented model, an actress, a makeup artist, and also a fashion designer. She owns a salon, fashion outlets and also has a full range of makeup cosmetics. She is a very famous fashion designer in the Pakistan fashion industry.
7. Omar Mansoor fashion designer 2022
Omar Mansoor is famous for his fashion outlets. Having a full range of wears of all types. He has the outlets full of bridal dresses. He has very talented and amazing models both male and female who walk on the ramp wearing his beautiful outfits.
8. Maheen Kardar Ali Fashion designer 2022
The very famous Pakistani fashion designer a competent designer in the industry. He is also an award-winning fashion designer in the industry.
9. Vaneeza Ahmed fashion designer 2022
Vaneeza Ahmed a very talented fashion designer in Pakistan. Having a complete range of formal and casual wear.
10. Nomi Ansari fashion designer 2022
This very young talented fashion designer in Pakistan has uptake the whole fashion industry through his mixture of western and eastern wear.
So, these are some of the very famous and talented fashion designers in Pakistan.