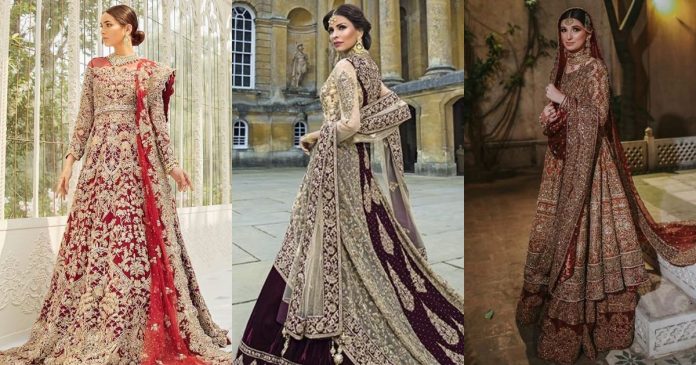 Pakistani Wedding dresses: The one very important event in the life of the person is the event of their wedding. everyone wants a perfect look at their wedding. For this sake, trendy and fashionable dresses were made for the groom and the bride. They have some sentimental connections with their wedding dresses. It is the desire of every bride and groom to look stunning at their wedding. Every year new trends are introduced and new designs are made for the wedding functions. So, here we are going to tell you about some of top best Pakistani wedding dresses in the year 2022.
Best Pakistani Wedding Dresses in 2022
It is the wish of every bride to wear some trendy and heavy dress at the wedding. The quality and stuff of the wedding dress must be of unique quality. The embroidery work or the stones work or any other type of work must be of very fine quality. Some of the heavy works and dresses for the wedding are very much unique. The designer's wear must be of very good quality. Here are some of the latest trends in 2022 for Wedding dresses. The heavy work on the dresses is in demand or the other embroidery work.
Best Pakistani Bridal Suits
When it comes to the wedding the first thing that comes to mind is the wedding dresses. How the dress is designed so that it looks unique and super beautiful. Some types of works and art on the dresses are as follows.
Type of Dresses
1. Heavy embroidery
2. Pearls work
3. Stones work
4. Mirror work
Some brides and bridesmaids wish very heavy embroidery work on their dresses. But every designer has his own style of stitching a wedding dress. Usually, the lehenga is preferred for the wedding. But with the changing time, different new styles of wedding dress come into existence such as long maxi and sharara for the wedding functions. But still, lehenga never goes out of the trend.
1. Heavy embroidery work Wedding dresses in 2022
Many women prefer very heavy embroidery dresses for weddings. it is the wish for the bride and everyone that a long fur with heavy embroidery work is the most beautiful for the bride.
2. Pearls work on Wedding dresses in 2022
Pearls work never go out of fashion. The designers still use a lot of pearls to work for wedding dresses. Many women and girls still purchase pearls work for their dresses.
3. Stones work on Wedding dresses in 2022
As the trend is changing every day. New trendy designs are coming with more grace and beauty. But the stones work on a wedding dress is still very much in demand.
4. Mirror work on Wedding dresses in 2022
Mirror work on wedding dresses is the very latest trend and in demand. So the designers are using mirrors to make the wedding dresses more beautiful.