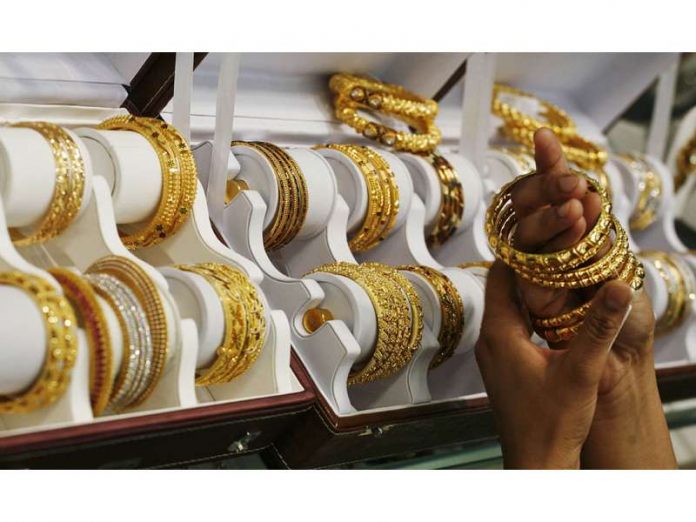 Per Tola Gold Rate in Pakistan: Gold is something you can consider as a good investment for the future. Especially, ladies love to save gold as their savings. Its rates are never fixed and vary according to the international gold rate. The current dollar rate decides the rate of gold per tola. Pakistani sells 22k and 24k gold, which is mainly sold as per tola and 10 grams weight measurements.
The cost also varies according to the product design. Today, on the 22 of October per tola rate of gold is 99,747 per 10 grams and 116,343 per tola. Usually, the rate remains the same all over Pakistan, But the Sarafa market decides the current gold rate in every city.
Today per Tola Gold Rate in Pakistan 22 October 2020
| | |
| --- | --- |
| 24K Gold per 10 grams | 99,747 |
| 24k Gold per Tola | 116,343 |
| 22k Gold per 10 grams | 91,435 |
| 22k Gold per Tola | 106,647 |
|  Gold Biscuits |   |
The Gold rate in all major cities of Pakistan, including Karachi, Lahore, Peshawar, and Islamabad are given below.
| | | | |
| --- | --- | --- | --- |
| Location | 24K 10 g | 24K per tola | 22K 10hg |
| Pakistan | 99200  | 115,700 | 90,933 |
| Karachi | 99,200  | 115,700 | 90,933 |
| Lahore | 99,200 | 115,700 | 90,933 |
| Islamabad | 99,200 | 115,700 | 90,933 |
| Rawalpindi | 99,200 | 115,700 | 90,933 |
| Peshawar | 99,200 | 115,700 | 90,933 |
| Quetta | 99,200 | 115,700 | 90,933 |
Gold Price in Pakistan is Rs. 99,747 as the latest updated price on 22 Oct 2020