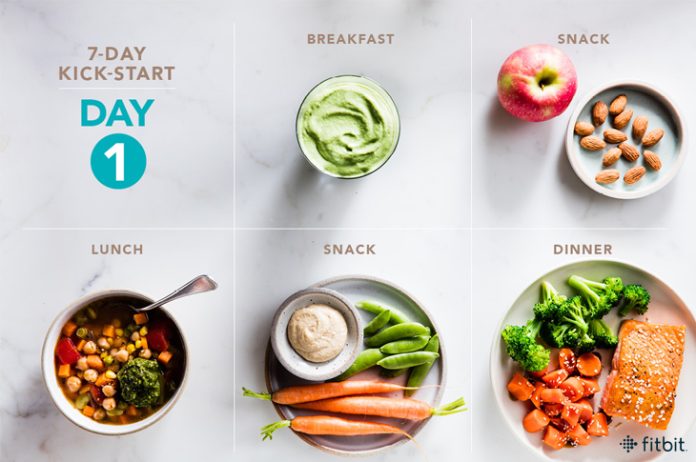 Pakistani Diet Plan for Weight Loss in 7 Days: Are you tired of doing strict diets and intense workouts but nothing going much in your favor? Here're a few things that you might be missing out on.
Diet in terms of weight loss is about starving all the time. Rather it's more about eating in a deficit along with a good workout regime. This will help you achieve your goal of weight loss and sustain it in the long run.
For the sake of preventing diseases, you should avoid sugar and processed foods such as bakery items, and junk food that are high in refined carbs and trans fats.
Get into physical activity (such as, running, walking, or swimming) or have a workout routine (such as strength training, or cardio) for 150mins per week. You can split your workout into days throughout the week.
However, if you're stuck and don't know how you can manage your diet. Here's a sample diet plan that you can follow:
Pakistani Diet Plan for Weight loss in 7 days
Breakfast– Diet Plan for Weight Loss
Egg tea and nuts
Ingredients:
2 boiled eggs
6 almonds
1 cup black tea (5g black tea, 120 ml of low-fat milk, artificial sweetener instead of white/brown sugar)
Snack
Fruit salad/ smoothie
Ingredients:
1 peach, 1 apple, and 1 banana
5g basil seeds
2 tbsp cream
Artificial sweetener instead of white/brown sugar (optional)
Lunch– Diet Plan for Weight Loss
Grilled fish with Broccoli
Ingredients:
100g fish
2 tbsp fish masala
Lemon
2 tbsp olive oil
120g broccoli
Snack
Chicken sandwich with tea
Ingredients:
2 slices brown bread
90g grilled chicken in 2 tbsp olive oil
Salt and Spices as per taste
1 fried egg in 1 tsp olive oil
5g black tea (120ml low-fat milk, artificial sweetener)
Dinner
Chicken Karahi with chapati and yogurt
Ingredients:
100g chicken
½ cup chopped tomatoes
½ cup chopped onions
1 ½ tbsp olive oil
Salt and Spices as per taste
28g whole wheat flour (for chapati)
60g plain-yogurt
Artificial sweetener(optional)
Snack–Diet Plan for Weight Loss