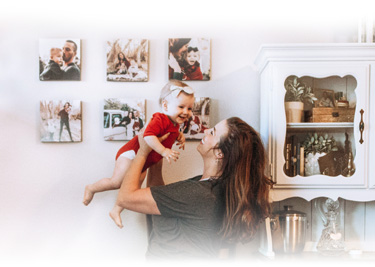 When it comes to decorating our homes, we all want something unique and personal that reflects our style and memories. Canvas prints and photo tiles have become increasingly popular choices for adding a touch of artistry and personalization to our walls. Among the top providers in this field, Wallpics stands out for its exceptional quality and innovative approach to wall art. In this article, we will explore how canvas prints and photo tiles from Wallpics can transform your space, elevate your decor, and create a truly captivating environment.
Canvas Prints and Photo Tiles
Captivating Canvas Prints
Canvas prints are a timeless and elegant way to showcase your favorite photographs and artworks. Wallpics offers a range of high-quality canvas prints that can transform any space into a gallery-like experience. Using premium materials and state-of-the-art printing technology, Wallpics ensures vibrant colors, sharp details, and exceptional durability.
The process of ordering canvas prints from Wallpics is simple and hassle-free. You can easily upload your own photos or choose from their vast collection of stunning images. With customizable options such as different sizes, frames, and finishes, you have the freedom to create a personalized piece that perfectly matches your style and interior decor.
Whether you want to immortalize a cherished family photo or display a breathtaking landscape, Wallpics can turn your memories into stunning wall art. From the living room to the bedroom or even the office, canvas prints from Wallpics add a touch of elegance and personality to any space.
Innovative Photo Tiles
If you're looking for a unique way to display your photos, Wallpics' innovative photo tiles are the perfect solution. These lightweight, adhesive tiles are easy to stick and reposition, allowing you to create dynamic arrangements and change them whenever you desire.
Wallpics' photo tiles are made using cutting-edge printing techniques, resulting in vivid colors and sharp details that bring your images to life. Each tile is crafted with high-quality materials to ensure long-lasting durability, and they are designed to leave no marks or damage on your walls when removed.
The versatility of photo tiles is unparalleled. You can create a collage of family moments in the living room, showcase your travel adventures in the hallway, or even add a personal touch to your workspace. With Wallpics' user-friendly interface, you can effortlessly upload your images, choose the desired layout, and create a visually stunning arrangement in minutes.
Conclusion
Wallpics offers an array of possibilities for transforming your space with canvas prints and photo tiles. Whether you prefer the classic elegance of canvas prints or the versatility of photo tiles, Wallpics ensures exceptional quality, personalized options, and hassle-free ordering. With their commitment to customer satisfaction and innovative approach to wall art, Wallpics allows you to surround yourself with cherished memories and captivating visuals. Embrace your creativity and elevate your decor with the stunning canvas prints and photo tiles from Wallpics. Your walls will thank you for it!
Read more: https://www.wallpics.com