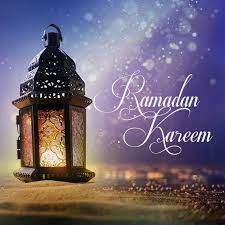 Ramadan Greetings: Every year, Muslims throughout the world celebrate Ramadan as the month of blessing. The holy month of Ramadan is a time when Muslims seek the blessings of Almighty Allah. All Muslims around the world are wishing Ramadan to one another. Here you can get the best collection of Ramadan Mubarak Sms and you can send it to your family, friends, and another relative with your Ramadan Mubarak Sms. 
So, in this article, we will provide you best Ramadan greeting messages in Urdu that you can send your family members and friends.
Ramadan Mubarak Greetings Messages
YA ALLAH  hamain Ramadan Mubarak Ke Ibtida Ziada Se Ziada
 Karney, Nekian Kamanay Or buraiyon Se Dur Hone Ki toufeeq Ata Farma (Ameen)
2.Hadees-e-Nabwi (S.A.W). "Sehri Zaroor Khaya karo,Is liye k Is Main Barkat Hai.".(Bukhari / Muslim)
3.Ramzan Mubarak! Allah iss mahinay ki barkaton se apko bharpoor lutf andoz karein aur apki tamam jaez khuwahishat puri krein. Allah karay yeh Ramadan apka har guzry huy ramzan se behtar ho. Duaon mai yaad rakhiyega
4.Meri taraf sy apke ghar walun ko Ramazan mubarik. Allah apko apne hizu amaan main rakhe ameen
5.Ramadan ka chanad mubarik ho
6.Ramzan ka iss ba Barkat mahinay ka aghaz mai apke li yak hadith e nabwii SAWW ka tohfa:
Hazrat Abu Saeed Khudri se rawayet hai k mai ne Rasool Allah SAWW se suna k "Jis aadmi ne aik din Allah t'ala k rastay mai roza rakha, Allah t'ala dozakh ki aag ko uske munh se 70 saal ko musafat tak duur karyga." (Sahih Muslim)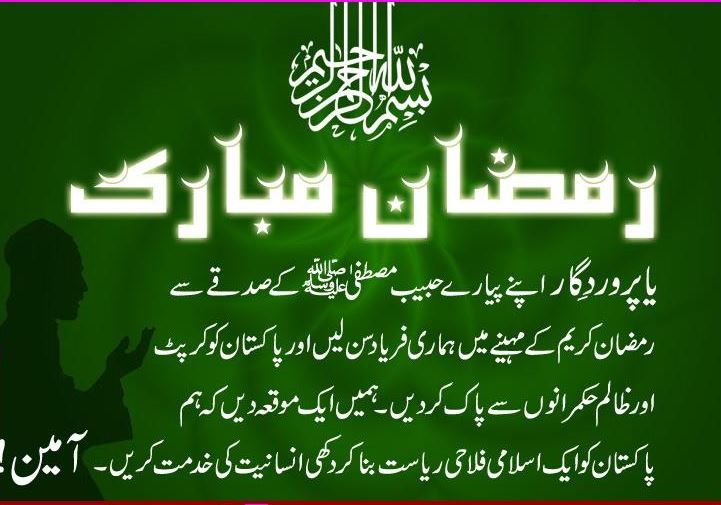 Ramadan Greetings In Urdu
صرف رمضان کے لیے خود کو نہ بدلیں۔ لیکن اپنی پوری زندگی کے لیے خود کو بدلو
رمضان مذہبی عمل میں کوئی عارضی اضافہ نہیں ہے، یہ اس کی ایک جھلک ہے جو ہم ہر روز کرنے کے قابل ہیں۔ رمضان مبارک
للہ تعالیٰ نے اس مہینے کی طاق راتوں میں ایک شب قدر بنائی جو ہزار مہینوں سے بہتر ہے جیسا کہ اللہ تعالیٰ نے خود فرمایا ہے کہ ''شب قدر ہزار مہینوں سے بہتر ہے''۔ لیلۃ القدر مبارک
مجھے اور میری فیملی کو ہمیشہ اپنی دعاؤں میں یاد رکھیں۔) اللہ آپ سب کو خوش رکھے اور میری اور میرے اہل خانہ کی طرف سے رمضان المبارک کی ڈھیروں نیک خواہشات ہوں۔
اللہ آپ کو ہدایت دے اور اس رمضان اور ہمیشہ آپ کی حفاظت فرمائے۔
اللہ آپ کو اس رمضان میں برکت عطا فرمائے اور آپ کو یاد دلائے: "مبارک ہو وہ مومنین، جو اپنی نماز میں عاجزی کرتے ہیں، اور جو لغو باتوں سے پرہیز کرتے ہیں، اور جو صدقہ کرنے والے ہیں، اور جو اپنی بھوک مٹاتے ہیں"۔
More Messages For Ramadan
may allaha srethenght you to fast in this ramadan
 I wish you a very happy and blessed Ramadan to you and your family
May Allah protect you during this Ramadan
This Ramadan, I wish you and your family four weeks of blessings.
May the month of Ramadan bring us all closer to compassion, love, and fortitude.
Allow your fasting and prayers to draw you closer to Allah, bringing you enlightenment and inner serenity.
Kareem Ramadan! May Allah shower you with blessings and success. May Allah bestow wealth and happiness onto you, as well as a long and healthy life.
Let us all hope for a pleasant Ramadan. May Allah guide us in the correct direction and grant us our requests. My love, Ramadan Mubarak.
Ramadan Mubarak! Wishing you a great Ramadan filled with courage and strength to help you overcome all of life's challenges
May the month of Ramadan bring you peace, harmony, and joy. I pray that Almighty Allah protects and blesses you. Mubarak Ramadan.