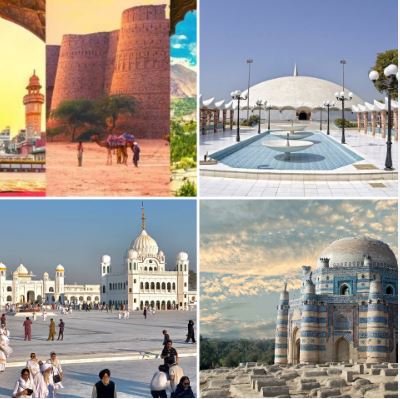 Religious Tourism Places in Pakistan: Pakistan is a country rich in religious diversity and offers tourists several significant religious sites. Here are some popular religious tourism spots in Pakistan. Religious tourism in Pakistan has a long and rich history, deeply rooted in the country's diverse religious and cultural heritage. Here is a brief overview of the history of religious tourism in Pakistan.
Religious Tourism Places in Pakistan
1. Badshahi Mosque
The Badshahi Mosque in Lahore is one of the largest mosques in the world and a major tourist attraction. It features stunning Mughal architecture and is a significant site for Muslims.
2. Faisal Mosque
The Faisal Mosque in Islamabad is the largest mosque in Pakistan and one of the largest in the world. Its unique modern design and picturesque location make it a popular tourist destination.
3. Data Darbar
Located in Lahore, Data Darbar is the mausoleum of the famous Sufi Saint Hazrat Data Ganj Bakhsh. It is one of the oldest and most important Sufi shrines in South Asia and attracts devotees from different religious backgrounds.
4. Lal Shahbaz Qalandar Shrine
Located in Sehwan, Sindh, this Sufi shrine is dedicated to Lal Shahbaz Qalandar, a revered Sufi saint. The annual Ursfest held here is a lively and spiritually charged event.
5. Hinglaj Mata Temple
The Hinglaj Mata Temple in Balochistan is a revered Hindu pilgrimage site. It is dedicated to the Hindu goddess Hinglaj Mata and is considered one of the Shakti Peeths.
6. Katasraj Temples
The Katasraj Temples in Chakwal, Punjab are a complex of Hindu temples dedicated to Lord Shiva. The temples are known for their historical and religious importance.
7. Shrine of Abdullah Shah Ghazi
Located in Karachi, the shrine is dedicated to Abdullah Shah Ghazi, a Sufi saint revered by both Muslims and Hindus. The shrine attracts large numbers of devotees seeking blessings and solace.
8. Panja Sahib Religious Tourism Places in Pakistan
Located in Hasan Abdal, Punjab, Panja Sahib is a Sikh Gurdwara associated with Guru Nanak Dev. It is believed to have a sacred rock bearing the handprint of Guru Nanak and is a major pilgrimage site for Sikhs.
9. Shahi Eid Gah Mosque Religious Tourism Places in Pakistan
The Shahi Eid Gah Mosque in Multan is a historic mosque known for its unique blue-tiled facade and grandeur. It is an important place of worship for Muslims in the region.
10. Kartarpur Sahib Religious Tourism Places in Pakistan
Located in Punjab, Kartarpur Sahib is a revered place for Sikhs. It is the final resting place of Guru Nanak Dev, the founder of Sikhism, and attracts Sikh pilgrims from all over the world.
These are just a few examples of religious tourism places in Pakistan. The country is home to numerous mosques, shrines, temples and gurdwaras that are of religious and historical importance and attract tourists and pilgrims of various faiths.