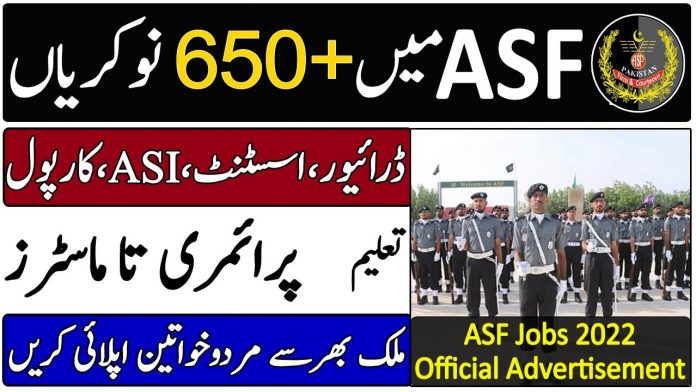 Apply for ASF Jobs in Pakistan: According to the advertisement, there will be jobs in ASF in 2023. In other words, the Airport Security Force (ASF) has posted jobs in multiple sections/departments across the entire nation (Pakistan). ASF stands for Airport Security Forces and you can apply for jobs here.
Therefore, ASF Careers is only for those who qualify for these positions. However, the Latest Airport Security Force Career is open to both male and female candidates throughout the nation. furthermore, you can read the Procedure in a job advertisement posted by an organization. Additionally,  make sure you complete the recruitment process in Pakistan 2023.
Apply for ASF Jobs in Pakistan
Pakistan Airport Security Forces Jobs September 2023
ASF is an abbreviation for Airport Security Forces, which are in charge of the security and operation of Pakistan's airports. It was founded in 1976 in reaction to the increasing number of terrorist acts and crimes in civil aviation. At the time of its establishment, it was part of Civil Aviation, but it was separated in 1983, and the Defense Ministry took over the responsibility for its operations. With 8945 men, it now works under the Aviation Division and provides security to all 42 airports in Pakistan.
Furthermore, Pakistan's aviation department established the ASF to provide soldiers with security and protection against terrorism. They are in charge of maintaining law and order at numerous locations around the aviation sector, as well as preventing all illegal activities.
Here is a list of vacancies:
Lab attendant

Assistant Sub-Inspector

Security guard

Electrician

Driver

Cook

Draftsman

Physical

Stenotype

Plumber
Where can I apply and join ASF jobs?
There are some important points and answer to the question for applying for an ASF job which is the following.
There are two ways in which candidates can apply.




The first step is to apply online through a web portal or by sending your documents and C.V. to the organization's email address. Additionally, you can obtain more information from the Airport Security Force (ASF) website.




As a result, second candidates may mail their applications. You can send your documents along with the application and attested photo.

The interview does not come with any TA/DA.

Selected candidates will get a notification of the interview from the organization

Applications will not be submitted after the closing date.

Government employees can also apply if they follow the proper procedures.