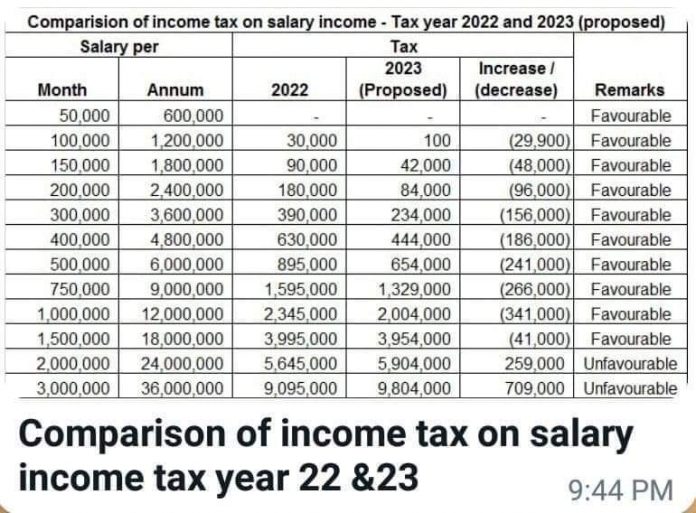 Income Tax on Salary Income 2024: The government of Pakistan proposed income tax 2024-2025 in the budget 2024-2025. Ishaq Dar presented a budget briefing. The budget for the fiscal year 2024 was mixed for the white-collar income group as the government lowered tax rates and the number of plates but removed the available provision of credit by eliminating the deductible profit-on-debt deduction and the investment tax credit in shares, health insurance companies, and pension funds.
Comparison of Income Tax on Salary Income Tax Year 2024-2025
The new coalition government made changes to the income tax collection table in its first federal budget for 2024-25.
The table below details the tax rates applicable to revised income plates in Pakistan.
Income Tax Slabs 2024-2025
| | |
| --- | --- |
| People earning less than Rs50,000 per month | No Tax |
| People earning Rs50,000 to Rs100,000 per month – | 2.5percent of the amount exceeding Rs600,000 |
| People earning between Rs100,000 to Rs200,000 per month | Rs15,000 (per annum) plus 12.5 percent of the amount over Rs12 lac |
| People earning Rs2-3lacs per month | Rs165,000 (per annum) plus 20 percent of the amount over Rs24lac |
| People earning Rs3-5lacs per month | Rs405,000 (per annum) plus 25 percent of the amount over Rs36lac |
| People earning Rs0.5 million to Rs1 million per month | Rs1.005 million (per annum) 32.5pc of the amount |
| People earning over a million per month |  Rs2.955 million (per annum) plus 35pc of the amount over Rs12 million |