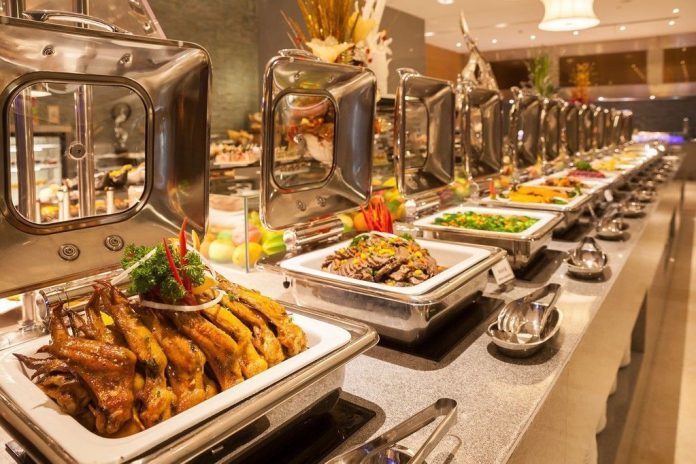 Best Buffet in Islamabad: A buffet is a meal-serving system where food is presented in a public area indoor or outdoor setting and the hotel staff serves themselves. Buffet restaurants typically charge a flat amount for which you eat, while some charge by the weight or quantity of dishes served. The buffet approach expands the range of dishes available, which would otherwise be limited to table service. Guests who are in a hurry love a buffet system. Since it allows them to eat what they want without wasting time.
People in a buffet system serve themselves according to their hunger, which lowers food waste. To plan your next buffet with a relaxing ambiance and scrumptious cuisines. Have a look at these restaurants for the best buffet in Islamabad.
Best Buffet in Islamabad
This list will help you to find the best place according to your budget to spend some family time while enjoying a delicious meal.
| | |
| --- | --- |
| Restaurant | Price |
| 1. La Montana Restaurant | PKR 1095 + tax |
| 2. Arabian's Chef | PKR1199 |
| 3. Laiba Restaurant | PKR1500 + tax |
| 4. Rakaposhi Heights restaurant | PKR 900 |
La Montana Restaurant: Offers best buffet in Islamabad
La Montana is a lovely venue in the Margalla Hills. It boasts stunning views, delectable cuisine, and excellent service. A delectable dinner buffet is available at the restaurant to tantalize your taste buds. The dinner buffet begins with a soup dish, followed by a live station, the main course, and 7-8 dessert options. Their buffet, which includes a live BBQ station, is a huge attraction. The Dinner Buffet at La Montana Restaurant costs PKR 1095 inclusive of tax.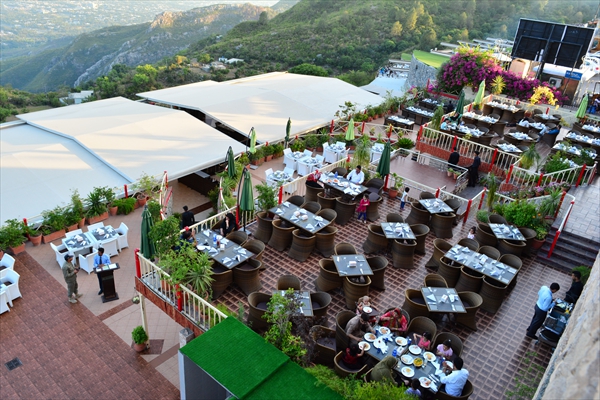 Arabian's Chef: Buffet in an affordable range
One of the best family restaurants in the city is Arabian's Chef Islamabad. The pleasant ambiance, friendly staff, and wide range of dishes will make your mouth water. The restaurant offers an outside dinner buffet with a wide range of foods to satisfy your appetite. To create a tasty experience, the primary meals include live BBQ, a range of hot foods, salads, and chutneys. Add some sweetness to the dinner by including a variety of sweets. The Dinner Buffet at Arabian's Chef Islamabad is priced at PKR 1199.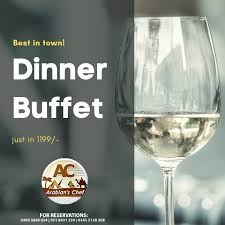 Laiba Restaurant: Place for international cuisines
Laiba Restaurant is found within the Islamabad Hotel. The restaurant serves international cuisine. You will not hesitate to admire the ambiance and the lovely buffet with a wide range of dishes. The restaurant offers a daily live buffet for those who enjoy barbecuing. They have a buffet with freshly produced BBQ variety that would make BBQ fans remember this restaurant. The Dinner Buffet at Laiba Restaurant in Islamabad costs PKR 1500 including tax.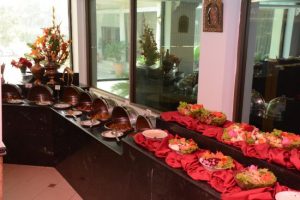 Rakaposhi Heights restaurant: With a traditional touch
In the center of Islamabad, Rakaposhi Heights is the best-rated Afghani and Chinese restaurant. For their supper buffets, they have an outstanding roof-top space. With their broad menu, the restaurant offers a delectable supper buffet. Among the highlights are a variety of Afghani and Chinese cuisines that satisfy the palate. For a unique twist, they feature a live BBQ station. One of the highlights is the chutney, which pairs wonderfully with the BBQ. Families who have visited this location have given it high marks for food quality and ambiance. The Dinner Buffet at Rakaposhi Heights Restaurant is priced at PKR 900.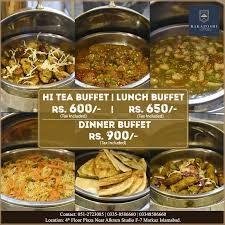 Conclusion
If you are thinking about enjoying a variety of dishes, the buffet system is the best choice. Living in Islamabad gives you additional opportunities to enjoy the delectable buffet and stunning views at the same time.