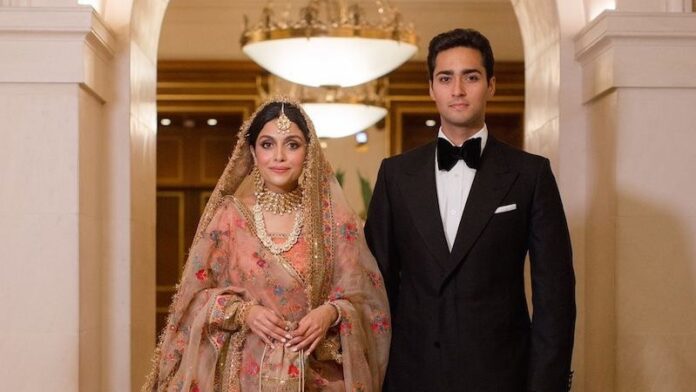 Maryam Nawaz's son Junaid Safdar Nikah pictures: A few days back, Maryam Nawaz announced via Twitter that her son Junaid Safdar is getting married. Eventually, he married Saif-ur Rehman's daughter Ayesha on August 22, 2021. He has shared some beautiful wedding photos with his wife and his family on social media. It is also worth mentioning that Junaid Safdar is the grandson of former Prime minister Nawaz Sharif.
Maryam Nawaz son Junaid Safdar nikah Pictures
Unfortunately, Maryam Nawaz and Safdar Ali were not present at the wedding. Their names have been in the ECL for the past couple of years because of the corruption charges. Maryam Nawaz tweeted that she will not beg the government for her name to be removed from the ECL to attend the wedding. Hence, it was a sad event for Junaid Safdar as he was missing his parents on the most special day of his life.
Maryam Nawaz son Junaid Safdar nikah pictures 
Ayesha Saif, the wife of Junaid Safdar, is the daughter of Saif-ur Rehman. He was the head of now-defunct Ehtesaab Bureau. The bride was wearing a pink pastel and gold Rajasthani style dress. Sources said that Junaid Safdar's wife was wearing an Indian designer (Sabyasachi Mukherjee). Junaid wore a black tuxedo. The complete look with a bow tie and a white pocket square.
Ayesha was looking gorgeous as she walked down the aisle with her father. The couple signed Nikkah papers in Lanesborough Hotel, Hyde Park, London. The venue was decorated with fresh flowers. The wedding food was delicious. They had served Pakistani and continental food. There was a variety of desserts.
The officials closely monitored the event for Covid-19 precautions. Hence, Nawaz Sharif and others were wearing a mask. Every guest had bought their Covid test.
Here we will share some nikah pictures of Junaid Safdar with Ayesha Saif. His mother, Maryam Nawaz shared these pictures on Twitter. She wished the couple well. "May Allah always keep you happy and prosperous," she wrote.