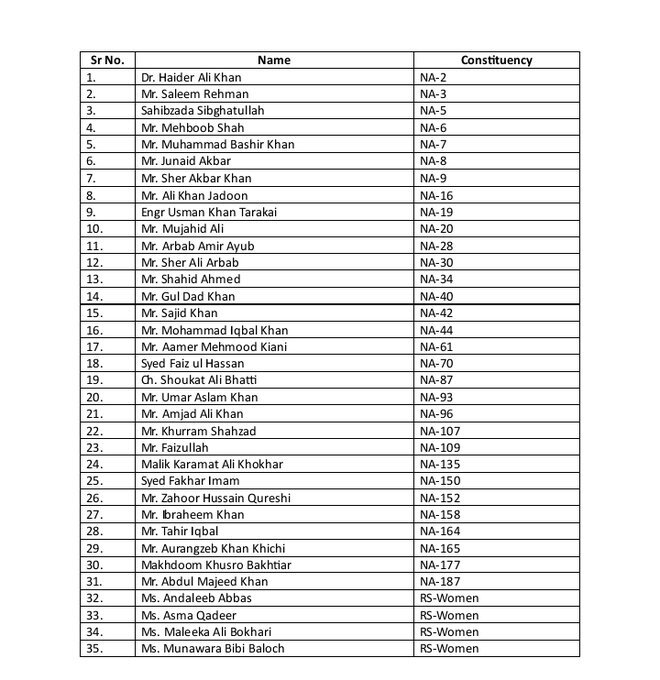 Speaker National Assembly Raja Pervez Ashraf accepted the resignation of 35 more members of Pakistan Tehreek-e-Insaf (PTI).
Among the resignations of the members of the PTI who have been accepted by the speaker of the National Assembly, the resignations of Junaid Akbar, Usman Tarkai, Mujahid Ali, Arbab Amir Ayub, Andalib Abbas, Malika Bukhari have been accepted.
Apart from this, the resignations of Haider Ali Khan, Saleem Rehman, Sahibzada Sibghatullah, Mehboob Shah, Muhammad Bashir have also been approved.
Raja Pervaiz Ashraf accepted the resignations of Sher Akbar Khan, Ali Khan Jadoon, Sher Ali Arbab, Shahid Ahmed, Gul Dad Khan, Sajid Khan, Muhammad Iqbal Khan, Amir Mehmood Kayani and Faizul Hasan.
Shaukat Ali, Umar Aslam Khan, Amjad Ali Khan, Khuram Shehzad, Faizullah, Malik Karamat Khokhar, Syed Fakhr Imam, Zahoor Hussain Qureshi, Ibrahim Khan, Tahir Iqbal, Aurangzeb Khan, Makhdoom Khusro Bakhtiar, Abdul Majeed Khan, Asma Qadeer and Munora B. The resignations of B have also been accepted.
After accepting the resignation of the Speaker, the National Assembly sent it to the Election Commission for further action.
Resignations of 35 more members of PTI accepted Name list