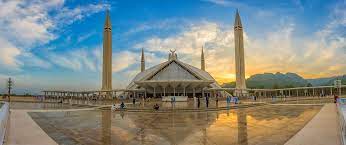 Discover the diverse climatic experience of Islamabad with "Weather in Islamabad Throughout the Year".
Stay updated on the changing seasons, rainfall, and temperature fluctuations that characterize Pakistan's beautiful capital city.
Welcome to "Weather in Islamabad Throughout the Year", your comprehensive guide to understanding and navigating the dynamic weather patterns of Islamabad.
From the chill of winter to the refreshing monsoon showers and the warm summer days, we cover all the weather changes and patterns this intriguing city offers.
Be prepared and informed with our accurate, timely updates and fascinating weather facts that encapsulate the distinct seasonal shifts of Islamabad.
Step into the unique climatic journey of Islamabad with us.
Islamabad weather throughout the year
Month –
High / Low
(°C)
Rain
September –
33° / 21°
3 days
Climate and Average Weather
Islamabad, Pakistan, has a diverse range of climates throughout the year.
Intense heat, high humidity, and clear skies define the city during the summer, with rare refreshing bursts of rain.
The winters are brief but distinct, with low temperatures and variable cloud cover.
Temperatures in the city rarely drop below 1°C (34°F) or fly above 42°C (108°F), often staying between 3°C (37°F) and 38°C (100°F).
From early May to mid-June and again from late August to the beginning of October, Islamabad is at its best for sun-soaked activities.
The climate is most conducive to outdoor activities and water sports during these times. Make the most of your time in Islamabad by visiting at these hours.
Graphs and data for weather in Islamabad
Winter (December to February):
Islamabad has brief, moderate winters. Seasonal temperatures range from 3°C (37°F) to 18°C (64°F). Rainfall makes the city lush. Cooler weather and outdoor activities are perfect.
Spring (March and April):
Islamabad's brief spring is lovely. The city blooms in bright colors at 13°C (55°F) to 30°C (86°F). These months are dry and sunny.
Summer (May to September):
City summers are hot. These months can reach 38°C (100°F) and even higher. Islamabad experiences occasional rains throughout the monsoon season. The rain cools and beautifies the metropolis.
Autumn (October and November):
Temperatures in the autumn average between 14 and 28 degrees Celsius (57 and 82 degrees Fahrenheit). For those who appreciate temperate conditions, now is a glorious momenta significant moment a significant moment.