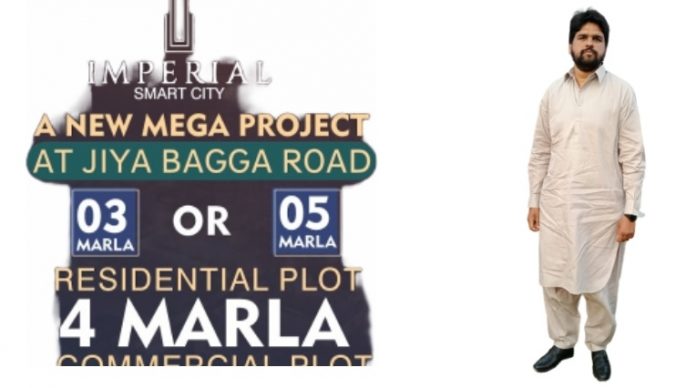 Imperial Smart City Payment Plan: Everyone's dream is to live a life of luxury. It's all about being smart and inventive in today's environment. We are altering our cities to provide us with a smart lifestyle in which we have simple access to everything. With smart lifestyles, modern construction, metropolitan life, and state-of-the-art town planning, Imperial Smart City presents such an opportunity.
HMF Developers has announced Imperial Smart City, a project located on Jiya Bagga Road in Lahore near the Halloki interchange. Imperial Smart City is being built to be both cost-effective and up to international standards. Imperial Smart City residents can enjoy smart lives in a stress-free environment with classic modern amenities and well-developed infrastructure. The LDA recently authorized Imperial Smart City.
Imperial Smart City Payment Plan
Location of Imperial Smart City
It's near Etihad Town and Liberty Land on Jiya Bagga road. If you're coming from the ring road's Halloki interchange, take Jiya Bagga Road to Raiwind Road. After 1 1/2 kilometers, you will come upon this enormous project at the back of the Bahria Orchard Phase 4 development.
Developer of Imperial smart city
This project will be developed by AKB developers. AKB Construction employs a diverse staff and has a diverse culture. They have a group of highly skilled engineers, masons, and human resource professionals. They have shown this variety in many of their projects.
Land ownership on which the city is built
Khalid Gujjar owns the land on which the project is being developed. Because he is the landowner, the proposals he makes are rather reasonable. All they have to do now is develop the land and sell it.
Approval by LDA
LDA recently approved this project so they are now ready for taking bookings.
Imperial City payment plan
Because they own the land, the pricing is relatively reasonable. Imperial Smart City, among all the developments on Jiya Bagga Road and Raiwind Road, is giving plots at a very low price. Let's have a look at plot prices.
Residential Plots
There are two categories in residential plots with 3 years payment plan
3 Marla plots with a total price of 1,395,000. Its booking starts with 2,50,000. On balloting, you have to pay 1,50,000. Possession starts at 400,000. The monthly Installment at the start is 10,000 and after six months it will be 40,000.
5 Marla Plots are of 2,295,000. Booking starts with 3,50,000. On balloting you have to pay 200,000. You can take possession with 600,000 with 19,500 monthly installments at the beginning and 75,000 after six months.
Commercial Plot
They are offering 4 marla commercial plots with 4 year payment plan. The total price of 4 marla plot is 7,500,000. Booking starts with 2,000,000 with 600,000 on balloting. Possession starts with 1,50,000 with 50,000 monthly installments at the beginning and 125,000 after six months.