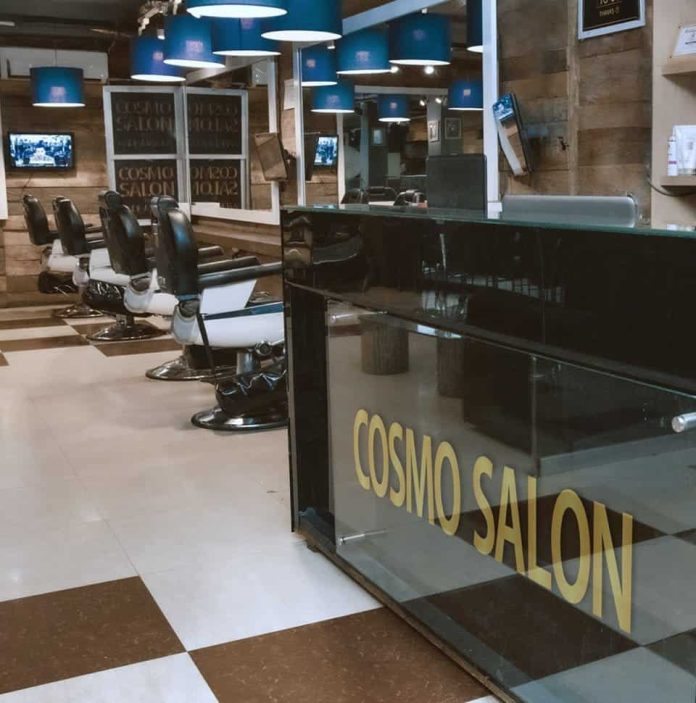 Are you looking for the COSMO SALON rate?? Don't worry. We are here to provide you with all the information about COSMO SALON. It is indeed one of the best salons in Lahore. Other details are given below:
COSMO SALON :
COSMO Salon is situated in Lahore with its head office in DHA and its second branch is situated on PIA Road, Johar Town, Lahore.
They offer services to both men and women and this is the best thing that both male and female can utilize their best quality services.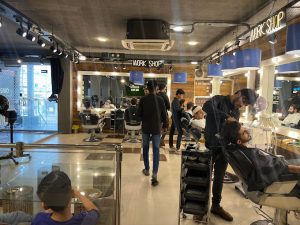 It is the best beauty salon for male and female. More details about services and their rates are as follows:
Services for women:
COSMO Salon gives the following services:
1-Party make-up
2-Bridal make-up
3-Facial
4-Skin care treatments
5-Massages
6-Rebounding, keratin
7- Waxing
8-Hair Color
9-Manicure
10-Pedicure
11- Threading
12- Hydra facial
Services for men:
1- Threading
2- facial
3- Massages
4- Makeup
5- Beard
6- Haircut, dye, mask, and much more.
Professional staff:
The team and staff of Nina G beauty salon are very cooperative and professional. They treat their clients very politely and this is the best thing when someone treats you politely. Due to this reason, their customers are very satisfied with them.
Cleanliness:
COSMO salon has a clean environment and also the hygienic conditions are very awesome.
Modern beauty equipment:
One of the best qualities is that they use modern beauty equipment.
Photography services:
They are also offering photography services for wedding events ranging from 1 lac to 2 lac per day and also there is a deal of 60,000.
COSMO SALON Rate:
If you want to know the rates of services, they are:
COSMO Salon Facials:
Their facials price range from 2500 to 5500.
COSMO salon Threading:
1-Eye Brows             
Rs.100
2-Upper Lips             
Rs.50
3-Forehead               
Rs.100
4-Chin Threading       
Rs.50
5-Side face threading
Rs.250
6-Full face threading 
Rs.700
COSMO salon Make up:
1- PARTY MAKE UP   
Rs.6500
3-
MEHNDI             
Rs.12000
4-
BRIDAL DAY 1     
Rs.25000
5- RECEPTION          Rs.17000
6-
Signature Makeup
Rs.40000
Deals for women:
There are many deals available for women related to makeup, skin, and hair. We are sharing the pictures here: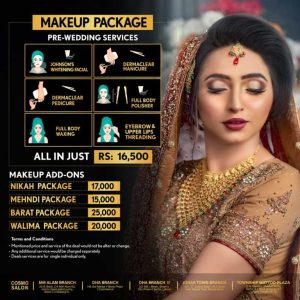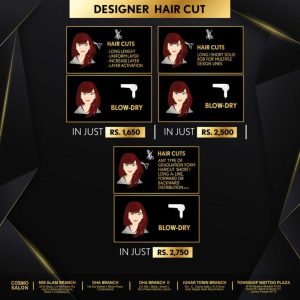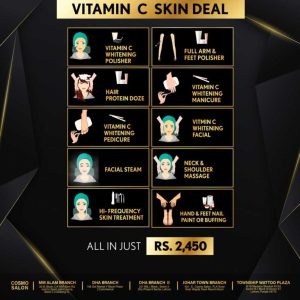 Deals for men:
There are also skin, hair, makeup, and keratin treatment deals for men. Some pictures are here: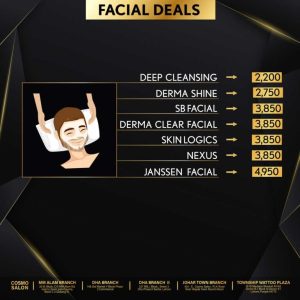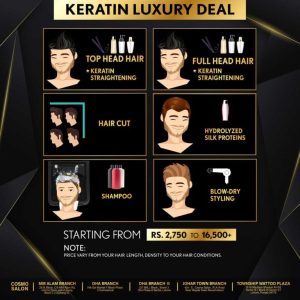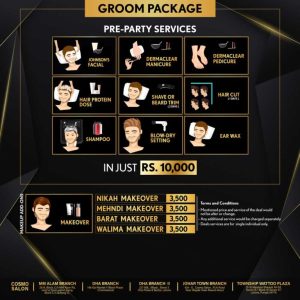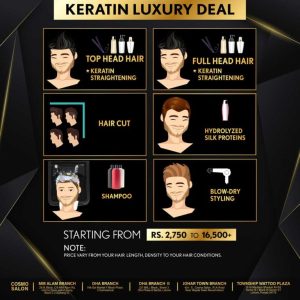 Location:
It is situated at 2 locations
1- Johar Town PIA Road Branch, Lahore
2- Defence Y Block Branch, Lahore
Phone number:
You can also get information about NUMRA beauty salon rate list.