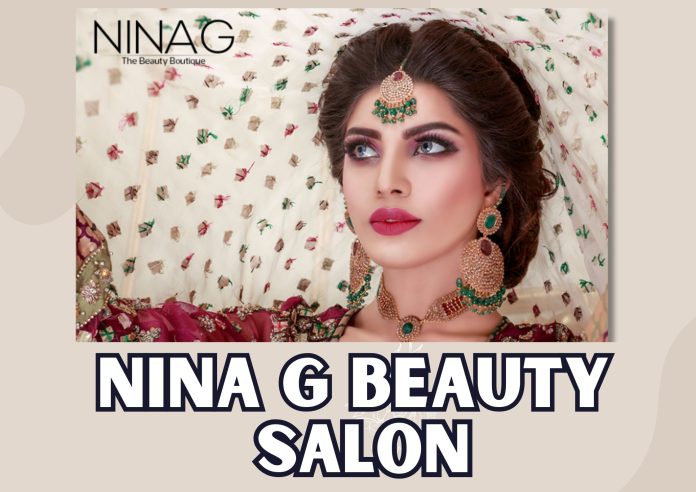 Are you looking for Nina G Beauty Salon Rate 2023?? Don't worry. We are here to provide you with all the details, information, and rates of the Nina G Beauty Salon. Nina G Beauty Salon is one of the best salons in Lahore. A detailed description is given below:
Nina G Beauty Salon:
Nina G Beauty Salon is the best salon in Lahore. They are providing quality services with everything you want all available under a roof. This salon offers a wide variety of high-quality services and products.
Services:
They offer the best facilities to their valued clients. They are providing the following services:
1- Waxing
2-Hair Color
3-Manicure
4-Pedicure
5-Party make-up
6-Bridal make-up
7-Facial
8-Skin care treatments
9-Massages
10-Rebounding, keratin, and much more.
Professional staff:
The team and staff of Nina G beauty salon are very cooperative and professional. They treat their clients very politely and this is the best thing when someone treats you politely. Due to this reason, their customers are very satisfied with them.
Cleanliness:
Nina G beauty salon has a clean environment and also the hygienic conditions are very awesome. This is again one thing that satisfies their customers because people do not want to go the place where the atmosphere is not clean.
Management skills:
Their management skills are excellent. They provide clean and organized space.
Modern beauty equipment:
One of the best qualities is that they use modern beauty equipment.
Nina G beauty salon Rate:
If we talk about their rates, they are very reasonable. All the services like manicures, pedicures, make-up, hair styling, and facials are very reasonable.
Haircut:
They charge Rs.3000 for a haircut.
Bridal makeup:
For bridal make up they charge Rs.20,000 in which they offer services like makeup, hairstyle, nail color, eyelashes, dupatta setting, and jewelry.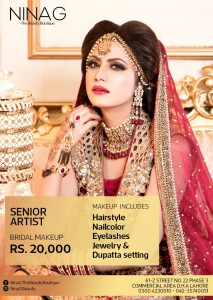 Party makeup:
For party makeup, they have 3 different categories. They charge:
1- Rs.6000
2- Rs.5000
3- Rs.4000
It's upon you which category you wanna choose.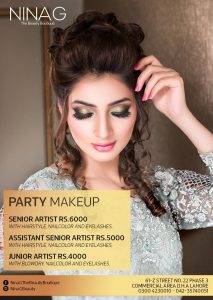 Silver and gold package:
They are also offering silver and gold packages.
Silver package: Rs.5000
Gold package: Rs.10,000
In these packages services are: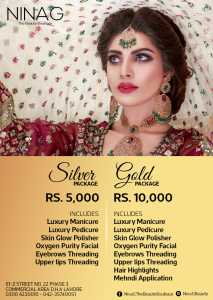 Signature makeup:
This makeup is somehow costly. It is 40k.
Details are mentioned in the given picture: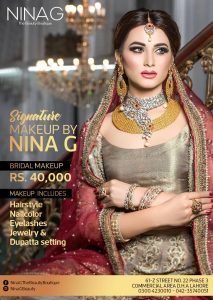 Location:
You can easily visit Nina G salon at this contact:
61-Z, street 22, commercial area, phase 3, DHA, Lahore.
Phone number:
You can call them at these numbers:
04235740051
03004230010
So all the details about the parlor and their rate lists are here on our website. You can also easily contact Nina G Beauty Salon as we have shared numbers and locations.
You can also check the rates of Uzma's beauty salon here.