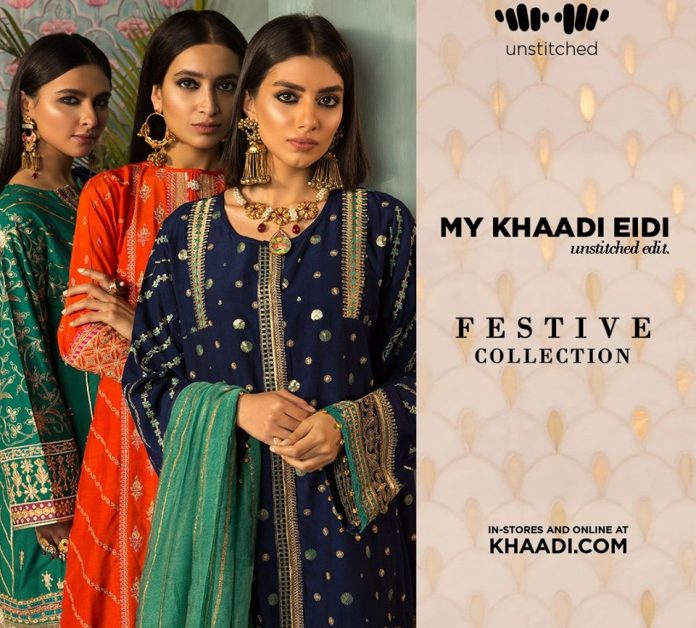 Khaadi Festive-Eid Collection falls into three major categories that are Unstitched, Ready-to-wear, and kids collection. All these categories have a wide range of clothing with many choices of fabrics, colors, and sizes.
Khaadi
Shamoon Sultan founded a fashion brand of Pakistan named Khaadi on 13 December 1998. The headquarter of Khaadi is in Pakistan, and their first store was opened in Karachi city. They are covering 17 cities across Pakistan. At present, the wide lines of Khaadi's products are also available in many cities of the UK and UAE. There is a total of 52 stores of Khaadi across Asia, Europe, America, Australia, and the Middle East. They are providing a wide variety of clothing, home-textiles both in handwoven and printed forms.
Khaadi Eid Collection for females
Quality products of Khaadi's Eid Collection include printed and embroidered dupattas, Kurtas, 2 pieces, and 3 pieces suits.
Unstitched Collection Khaadi
This Collection contains all the unstitched collection that is breathtaking. Khaadi introduced different new designs and fine works on beautiful fabrics for this Eid.
Ready-to-Wear Eid Collection Pret Khaadi
This Collection falls into more categories that are Pret and Khaas. All the Stitched suits are present in these categories, these dresses are splendid to wear on Eid day.
Khaas
Khaas Collection has all the amazing dresses with perfect looks to make your festival special.
Pret
Pret may include all those dresses that are graceful and decent suits. It may also contain some poppy dresses that are different from the world. Their textures and hues are dominant that provide a feeling of uniqueness.
Kids Eid Collection Khaadi
All the kid's dresses and kurtas are included in this collection. For making your Eid special with your babies choose Khaadi. Buy the dresses of your kids to give them a perfect Eid look.
Conclusion
Order your favorite dresses online to make your Eid day beautiful. However, you can also visit the nearest outlet to buy dresses. So before it's too late, hurry up! and grab your favorite ones.
For the latest information and trending stories, visit our site https://story.com.pk/