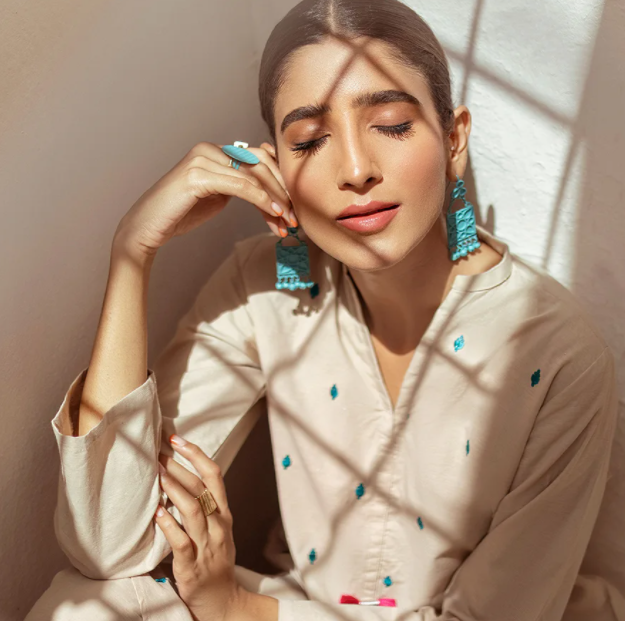 Latest Khaadi Winter Collection: Khaadi is a renowned clothing brand in Pakistan. It came into being in 1988. Ever since its first production, Khaadi has never disappointed its customers. Now Khaadi has retail stores in every major city of Pakistan. This brand also has franchises in the UK, Qatar, Bahrain, Canada, Europe, and UAE. As winter is approaching, Khaadi is beginning to release its latest collection. We have brought you all the exclusive collection of Khaadi 2023. 
Latest Khaadi Winter Collection
Khaadi produces bags, shoes, and home decor items. But the brand is most famous for its beautiful and intricate designs. Khaadi has introduced vibrant hues and bold patterns for its customers in this fall season. The prints are always season-appropriate. The immense variety of designs as plain patterns, self-prints, and embroidery is for teenagers and adults.
Winter is just around the corner. Every brand is busy crafting and producing season-appropriate dresses. Khaadi is among the brands that stand out in the crowd for its exquisite designs and fabric durability. Plus, it also makes high stuff quality at reasonable prices. The winter collection has the following categories:
Winter cambric collection

Khaddar collection

Light khaddar dresses

Ready-to-wear collection
You can find the unstitched and stitched collection in casual and formal wear. It captures the latest market designs and creates diversity among styles.
Unstitched winter cambric Collection
Cambric is a mixed-season fabric. It is a blend between cotton and lawn. As the autumn begins, Khaadi launches its cambric collection for its customers. The designs and colors are beautiful, and they represent autumn. 
You can find single shirt pieces and two pieces in this unstitched collection. The two-piece is available as trousers and a shirt. Let your creativity flow with Khaadi designs. You can design your unstitched dress as a long shirt or an A-line shirt with narrow trousers or flared trousers. 
Unstitched Khaddar Collection
Khaddar is a durable fabric. It offers warmth and comfort in extreme cold. Khaadi produces old prints and colors in this collection. The colors are usually dark, like shades of reds, blues, black, and green. This collection also has a dupatta with a shirt in a two-piece. 
Light Khaddar Collection
This collection is for those ladies who do not like to wear heavy fabrics. Therefore, Khaadi has introduced some exclusive prints and colors in this collection as well. Following are some of its categories from which you can choose:
Lining embroidered dresses

Simple printed attire

Embroidered attire
Ready-to-wear collection
If you want to save some time, buy ready-to-wear from Khaadi. It is a little bit expensive, but the ready-to-wear dresses are easy to get. It includes basic kurtas, shirts and you can also buy dupatta and matching trousers separately. This collection will save you a lot of time.
Formal Collection
Khaadi also produces glamorous formal collections in the stitched and unstitched category. The stitching of this collection is breathtaking. You can wear this collection on any occasion. It will surely turn the head of onlookers.
So, what are you waiting for this time? Go to your nearest Khaadi and grab these beautiful articles before they sold out. Happy shopping, everyone.