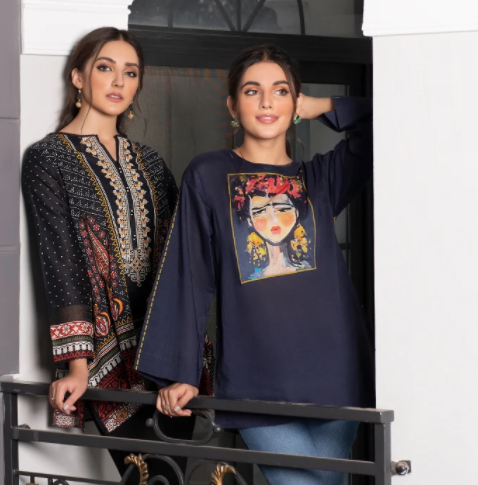 Latest Limelight winter collection: Limelight is famous among youngsters and teenagers. This brand has western and eastern wear. Plus, they always produce season-appropriate, vibrant and comfortable clothes. Limelight stitched/ready-to-wear collection is versatile as compared to the unstitched collection. The brand has a collection of fashionable western wear. You can find trousers, pants, culottes, bags, and jewelry as well. Hence, there is everything under one roof to satisfy your shopping experience.
Latest Limelight winter Collection
The ever-changing fashion trends make it impossible to wear trendy clothes all the time. The designers have to work hard to produce such designs, which are always in fashion. Hence, Limelight is one of those brands which make up-to-date clothes. As you know, winter is just around the corner. It's time to ramp up the wardrobe with the latest limelight winter collection. So, let's extract some time to explore the various options available at Limelight. 
Following categories are available for the winter collection:
Unstitched cambric collection

Refined cotton attires

Slub khaddar dresses

Jacquard winter collection
Generally, every clothing brand offers a wide range of clothes in winter. Limelight is famous for bold colors, beautiful and flowery prints, and intricate embroidery. 
Unstitched Cambric collection
This collection is perfect for the autumn season. The prints and colors compliment the fall season. Depending on customers, the cambric collection is available in two and three pieces. You can also find a zari dupatta in it. Therefore, this collection only carries grace and sophistication.  
Refined cotton attires
Cotton is also used in mixed-season. Stitched and unstitched dresses are available in this collection. The colors and hues are brilliant. Some ladies like to wear chiffon dupatta in winter as well. The cotton collection has chiffon dupattas available. 
Slub khaddar dresses
This fabric is perfect for the intense cold season. Khaddar provides you warmth and comfort during cold weather. Therefore, Limelight has introduced the khaddar variety for everyone. Slub khaddar has beautiful designs with eye-catching colors. The captivating designs compel the customers to buy them urgently. You can find the ready-to-wear shirt and two pieces in this collection. 
Jacquard winter collection
Jacquard is a very attractive fabric. It has gold threads sewn inside the cloth. Jacquard is quite famous among young girls because it resembles fancy fabric. You can wear jacquard to any function. Hence, Limelight produces jacquard with intricate designs and embroidery. It is appropriate for everyone and can be worn for any occasion. 
So, do not waste your time and head to your nearest Limelight store. Grab these beautiful winter pieces before they run out.