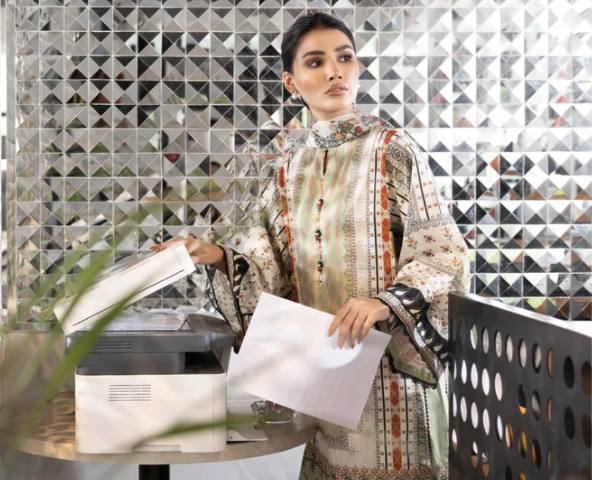 Latest Sapphire Winter Collection: Sapphire is a famous clothing brand in Pakistan. They always present with the most beautiful and impressive designs. Their attires are for adults and youngsters as well. This coming winter, Sapphire has introduced vibrant colors and bold patterns for its customers. The shades and hues are remarkable. Here we will show you some of the latest designs of the Sapphire winter collection. 
Latest Sapphire winter collection
Winter is a cold season. The fabrics used in winter are khaddar, linen, cotton, jacquard, and cotton net. These fabrics help us to feel warm and comfy throughout the winter. Sapphire also launches special collections, which include fancy wear for winter. In the Sapphire winter collection, there are stitched and unstitched options available. 
You will get charming designs in formal and casual wear. Their Pret wear is very fashionable. You can get an unstitched collection in the following categories:
Pop

Daily

Classic

Signature
The winter is just around the corner. So, get ready to ramp up your wardrobe. Sapphire focuses on bright hues and tints. And their entire winter collection is elegant with splendid attires for everyone.
Classic unstitched collection
This collection has formal and casual wear for everyone. Hence, the designs are beautiful with intricate embroidery or plain prints. 
Pop collection
The pop collection is for young girls. They have printed shirts with leaves, flowers, and other hip patterns for youngsters. The fabric used is khaddar. Therefore, you can pair these prints with leggings and jeans. 
Daily wear outfits
In this collection, you get the most striking and alluring casual attires for daily wear. The tones are most appealing with kurtas, A-line shirts, and many other designs. As a result, this collection is quite famous among ladies. 
Stitched winter collection
If you get fussy during the stitching process, Sapphire has stitched options available. You will get kurtas, two pieces, and three pieces in the most striking colors. Some designs have tilla and gotta work. 
Latest Sapphire winter collection
Sapphire winter clothing fabrics like wool, satin, slub, cotton, khaddar, jacquard, and tissue are beautiful. The dresses in the collection are suitable for casual daily wear. Hence, you can also find many suits in the winter collection appropriate for parties, semi-formal events, etc. Sapphire is very diverse with its color selection for dresses, so the variety of colors you can spot in the collection is remarkable. It ranges from jewel tones to earthy hues, deep rich colors, and vibrant hues.