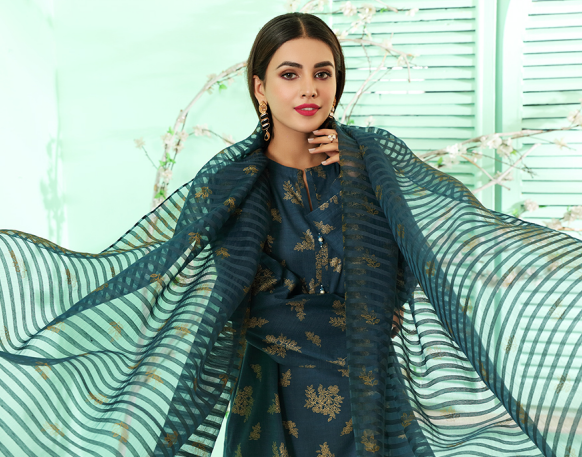 Latest Nishat winter collection: Nishat is one of the most lovable brands in Pakistan. It is very famous among women of all ages. Nishat is a big name in the fashion industry, and they have produced unique designs for every customer. In this blog, you will find information regarding the Nishat winter collection, specifically in linen. Nishat linen collection is available in stores and online. 
Latest Nishat winter collection
The new collection not only fulfills the weather demands but also has a variety of designs. This winter, Nishat is bringing you the best of best. Unique designs, vibrant hues, and bold patterns are in fashion. Nishat always introduces the latest trends for its customers. So, get ready to transform yourself into a diva for every occasion in these splendid designs. You can find two-piece, three-piece, and ready-to-wear in the following categories:
Ready-to-wear

Unstitched

Freedom to buy
The brand has used pure khaddar, linen, and karandi fabric for luxurious-looking dresses.
Ready-to-Wear Winter Collection
In this collection, you will find beautiful and trendy designs. The ready-to-wear collection is available in cotton Karandi and khaddar. These comfiest trends are available for teenagers and adults. Therefore, you can revamp your wardrobe quickly with Nishat's latest winter collection.
Printed Winter collection
Printed outfits never go out of fashion. Teenagers and young adults love to wear bold and attractive prints. You can pair these shirts with jeggings or jeans. Hence, Nishat printed winter collection is also perfect for university students. If you combine your printed suit with block heels, it will look classy and sophisticated. 
Embroidered Cotton Karandi outfits
This collection is perfect for an outing. You can style embroidered outfits with stylish heels and jewelry. These beautiful cotton Karandi suits are a great solution for a quick wedding or party gathering. The shades and motifs are intricately designed. Every woman should get an outfit from this collection for family functions.
Nishat unstitched collection
Several women prefer to wear unstitched attires because they can design them according to your taste. You can pick any design and stitch it beautifully. This unstitched collection is delightful, vibrant hues and patterns. 
Freedom to Buy collection
Nishat gives you the freedom to buy loose fabric of your choice. It starts at PKR 460 per meter. This collection is chic and fashionable. You can stitch long or short shirts of your choice. Off-the-shoulder shirts are also in fashion. 
All these collections are beautiful and awe-inspiring. No doubt, Nishat produces the finest quality fabric and prints for its customers. Therefore, every Nishat customer is never disappointed. Grab your favorite outfits before they run out of stock.