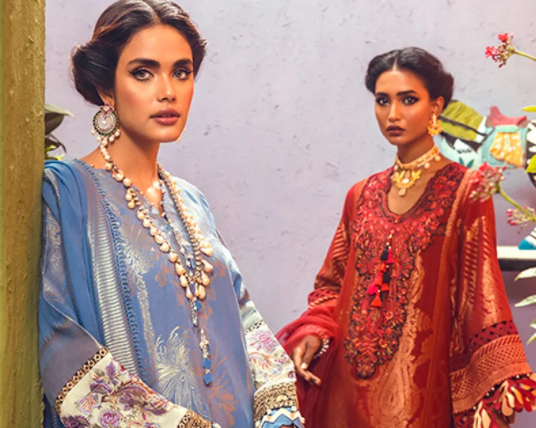 Latest Sana Safinaz winter collection: The latest winter collection of Sana Safinaz is out on the market. Let me tell you: it is spell bounding. Bold prints and cozy fabric can make your mouth water. The beguiling styles are enough to bring elegance and sophistication to your personality. Hence, every customer is going to love them. Additionally, they have used the comfiest fabric and vibrant hues in this collection.
Latest Sana Safinaz winter collection
Sana Safinaz always produces the chicest and stylish clothes. The winter is just around the corner so, run to your nearest store to grab your favorite pieces. Meanwhile, the clothing brands are busy launching their fall collections. Sana Safinaz has already introduced classy clothes with reasonable prices. You need to select a cheerful outfit to enhance your looks. Plus, the right choice of color and style will add grace to your attire. Sana Safinaz winter collection is as follows:
Printed and embroidered collection

Fany embroidered wear

Ready-to-wear collection

Luxury Pret wear
Let's have a look at the collection in detail. In this article, we will provide you with complete information t make your shopping easier. 
Printed and embroidered collection
There is a variety of winter clothing for women. You can have the most attractive collection of Sana Safinaz in your wardrobe now with their online shopping option as well. This brand is a trailblazer for its innovative designs and stylish outfits. Sana Safinaz produces clothes for every age. They have a beautiful collection of cotton satin dresses with lace details and floral patterns for an outing. Their coral rosewood collection is perfect for attending weddings or any formal functions without looking overdone. Sana Safinaz makes exquisite dresses for their customers. 
Fancy Embroidered wear
Indeed, the versatility in designs and prints represents the hard work of the designers. This collection is bold and beautiful. Sana S has produced the chicest prints in this collection. Therefore, fancy embroidered wear is perfect for any night out or daytime functions. This collection is classy and comfortable. The lace details and embroidery work is exquisite. You have to buy one article from this collection. 
Ready-to-wear collection
Undoubtedly, the ready-to-wear collection saves much of your time when it comes to stitching them. This collection has modest outfits for day-to-day wear. These are especially ensembled for students and working women so they can get ready without any hassle. They come in silk, embroidery, printed, and basic designs. 
Latest Sana Safinaz winter collection
Sana Safinaz's winter collection contains a variety of basic styles. So, go and grab your favorite articles before they run out of stock. Also, make sure you complete your winter wardrobe with the latest shoe and handbag collection. Happy shopping.