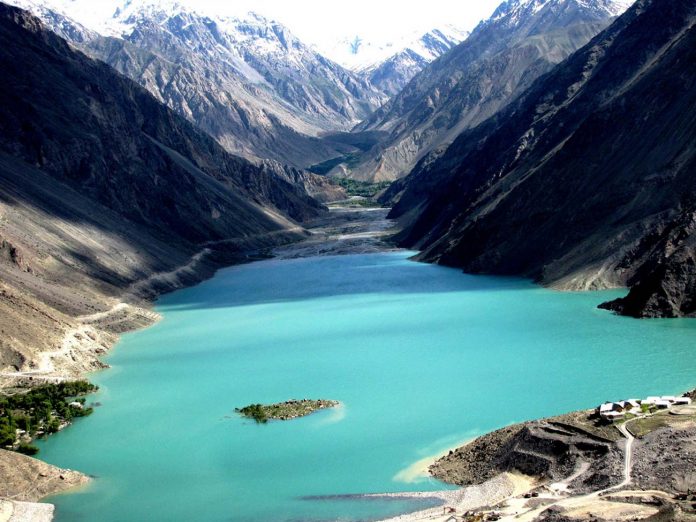 Best Time to Visit Satpara Lake: The best time to visit Satpara Lake is in Summer from the months of June to September. However, you can enjoy both your times and activities equally in Summer and Winter. Pakistan beholds many Eye-catching lakes in its Northern Region. Satpara Lake is among those. It is one of the most beautiful destinations for Tourists in Pakistan.
Location of Satpara Lake
Satpara Lake is a Natural Lake which is about 9kms(5.6 miles) to North of Skardu in the Gilgit Baltistan region of Pakistan. Located at an altitude of 2636 meters(8650ft) above sea level, Satpara Lake, lets you witness breathtaking views of Crystal clear Turquoise water in the middle of sky-touching Mountains.
Folk about Satpara Lake
The native people believe that beneath Satpara Lake there is a Gold mine. They further state that the shiny water of Satpara lake is because of this Gold mine. However, these are Just Myths and falsehood stories to entertain.
Why visit Satpara Lake?
Satpara Lake is 5km above Skardu. There is a beautiful island in the center of the lake. Thousands of tourists visit this glorious place as it presents charming and breathtaking scenery while laying in the Icy Mountains. The lake view can allure your heart even at first sight with its Lavish Green Meadows, Mountains, and Crystal water. Along being fascinated by the Incredible Views the Tourists can also do many activities.
Best time to Visit Satpara Lake
The months of June, July, August, and, September are the most preferable months to visit Satpara Lake. In these months the temperature here gets high to almost 30 °C due to which Roads are clear and it makes the traveling easy from Skardu.
Winter Season also offers an equal enjoyable time but in the coldest months, the roads are blocked because of the snowfall.
Hence you Should Plan your Visit to Satpara Lake from June to September to enjoy your trip to the maximum.
How to reach Satpara Lake
Satpara Lake can be accessed easily from Skardu through the Road. One can reach the lake by taking a 20 minutes Journey via Jeep from Skardu. However, the road that links Lake Satpara to Skardu is highly rough on which only professional drivers can drive.