Dudipatsar Lake to Ratti Gali Lake: Ratti Gali Lake and Dudipatsar Lake are two of Pakistan's outstanding natural beauties. Both lakes are popular with hikers, travellers, and nature lovers since they provide amazing views of the mountains and forests in the area. In this article, we'll discuss what makes these two lakes so unique.
Dudipatsar Lake to Ratti Gali Lake
Dudipatsar Lake also known as the "Dudipat Lake", is located in Pakistan's northern district of Kaghan. One of the highest lakes in Pakistan, it is a high-altitude lake that is located at a height of 12,500 feet above sea level.
The lake's unique milky-blue colour is due to the melting glaciers of the mountains surrounding it. Since the lake's water is so transparent, it is clear to view the lake's bottom, which is covered with tiny white stones.
The lake is located in the heart of a green valley and is surrounded by snow-capped mountains. The region has a wide variety of different plants and animals, making it rich in flora and wildlife.
To get to Dudipatsar Lake, go through an attractive and difficult landscape that begins in the Kaghan Valley near the town of Besal. The trail covers a distance of 18 km within 7-8 hours. The path passes through green forests, mountainous regions, and severe ascents, however, making it a challenging enjoyable journey.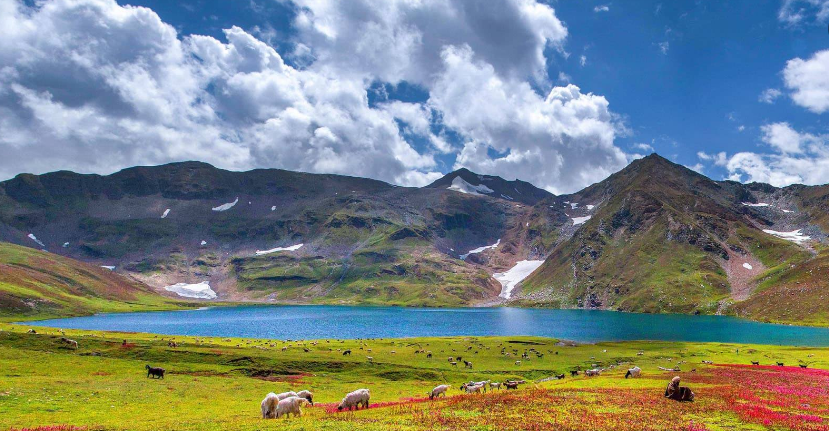 Ratti Gali Lake:
Ratti Gali, a high-altitude Lake is situated in Azad Jammu and Kashmir's, Neelum Valley at a height of 12,130 feet above sea level. The lake is surrounded by green fields and deep forests although, it gets its water from the melting glaciers.
Ratti Gali, most memorable feature is its blue crystal clear water. which highlights the mountains and trees in the area.
Travellers have to travel through a beautiful path that begins in the Neelum Valley settlement of Dowarian in order to reach Ratti Gali Lake. The journey covers a distance of 13 km in 6-7 hours. The track is difficult, however, enjoyable since, it goes through thick woods and mountains.