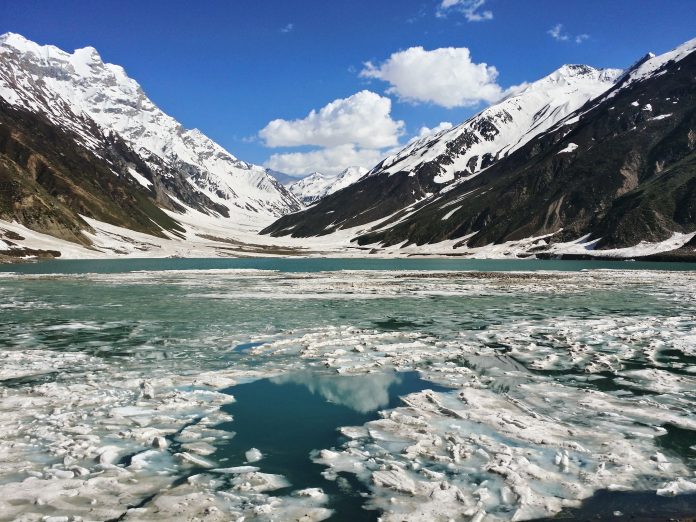 Lake saif-ul-Malook is located in the Manshera District of Khyber Pakhtunkhwa. The lake is about 5.6 miles in the North of Naran and on the Northern side of Kaghan Valley. Lake saif-ul-Malook is at a longitude of 34.876957 °N and latitude of 73.694485 °E. The lake is located beyond the tree line at a height of 10,578 feet above sea level. This make it one of Pakistan's highest lakes.
Saif-ul-Malook located in Pakistan
Saif-ul-Malook Path
The trek to the lake begins in Islamabad,Pakistan's capital city. From there, one may either use local public transportation on a shoestring budget or go privately. By utilizing the Hazara Motorway, one may expedite their travel from Abbottabad to Mansehra. Further, from Mansehra, follow the Naran-Babusar top road, which goes directly to the Naran Kaghan valley through Balakot. However, tourists may visit Saif-ul-Malook after arriving in Naran Valley by a thrilling climb. They can also visit by a 30-minute exciting and twisty vehicle ride.
Activities
There are a lot of things to get up hooked on the pleasing atmosphere of Lake. Firstly,  The most highlighting adventure in water sports includes scuba diving and jet surfing. Secondly, the night at lake Saif-ul-Malook has its joy. One can have a good night's sleep under the starry sky and with the mesmerizing breeze.
Thirdly,for foodies, lake offers a great variety of restaurants with exceptional food adventures. The food adventure consists of both local and foreign cuisines. Morover, one more astonishing activity is the horse ride. The ride offers a great service to the lazy tourist if they are tired from a long walk.
Lake offers a great opportunity for sightseeing. Furthermore, after two hours of horseback riding, one can walk to the sky-touching Ansoo Lake (Tear Shaped Lake). The journey take  about an hour. The walk to Ansoo Lake begins at Saif-ul-Malook. In conclusion, all in all the view is worth all the hype and time.