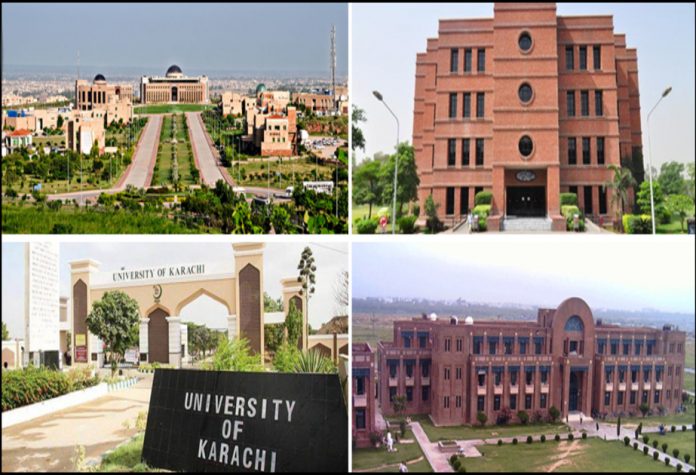 Best Universities in Pakistan: Theoretical investigation of the formal basis for automated information processing or calculation on data distribution grids or computers is called Computer Science. Computer Science is a broad field that includes everything from Computer networks, systems, and cybersecurity.
After the degree, you may pursue your career as a data administrator, developer of software, computer analysts or any other position which involves the operations of software. A computer science degree which is often referred to as a CS degree is proof that an individual has successfully qualified computer science program and is eligible to apply for any technology-related job.
Best Universities in Pakistan
Types of Computer Science Degree
Associate Degree in Computer Science
Associate Degree is completed in almost 2 years and requires 60 hours of credit time. After completing the degree you are eligible to apply for the positions of programmer, computer system administrator, or web developer.
Bachelor's Degree in Computer Science
Bachelor's degree takes 4 years with 120 to 128 credits required. After completing this degree you are qualified to apply for basic positions in computer engineering, computer science, or software design.
Master's Degree in Computer Science
After completing your bachelor's degree if you wish to get a high-level job you shall pursue a master's degree. It takes about 18 months to 2 years and 45 to 60 credits.
Top 10 Best universities in Pakistan for computer science:
COMSATS Institute of Information and Technology
Founded in 1998, COMSATS stands 1st  in the overall ranking of best universities in Pakistan for Computer Science degrees.
National University of Science and Technology
The National University of Science and Technology situated in Islamabad was founded in 1991. The University ranks 4th  in Pakistan and 2nd  as the best institute to offer a Computer Science degree.
Bahauddin Zakriya University
BZU ranks 3rd  in this category. The University is situated in Multan and was founded in the year 1975.
Islamia College Peshawar
Islamia College Peshawar was founded before its independence in the year 1913 and ranks 4th in Pakistan in offering computer science degrees.
University of Engineering and Technology
Located in Taxila, UET is ranked 5th in Pakistan as one of the best universities to offer a CS degree.
National Textile University
National Textile University was founded in 1959. The University is listed at 6th  in one of the best University to offer Computer Science degree.
The University of Azad Jammu and Kashmir
       The University was founded in 1980 and is built on modern design. The
University ranks 7th in the list of best universities to offer CS degrees.
Information Technology University
       Information Technology University ranks 8th in the list. It was founded in
2012 and aims to service excellence in academia.
Abdul Wali Khan University
       Founded in 2009 Abdul Wali Khan University stood at number 9thposition in the list of best universities to offer Computer Science degrees.
Quaid-e-Azam University
       Situated in Islamabad the Quaid-e-Azam University has taken the10th position on the list.