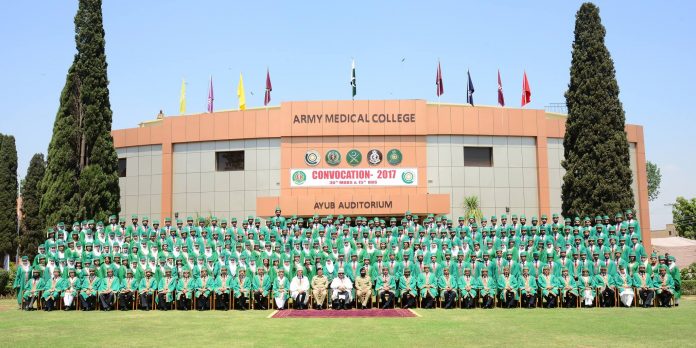 You can get information about Overseas Seats in Pakistan for Medical colleges. If you are searching the details about overseas seats, educational institutes for overseas and the criteria for applying in Pakistan then you are at the right place. To accommodate the demand of admission of students of overseas Pakistanis in reputed educational institutions of Public and Private division to track higher and professional education, OPF is making efforts to set aside a quota for the admission of the students of ops with an aim to allow their admissions on the charges applicable to local students rather than treating them as foreign students. So far, OPF has been successful in holding back the quota for admission of OP's children.
Overseas Seats in Pakistan for Medical colleges
Educational Institutions
Children of all OPF registered overseas Pakistanis can apply for admission to these institutions. So OPF has established a high-quality education system comprising of 24 educational institutions throughout the country including Azad Jammu & Kashmir.
These institutes provide quality education to their students. The institutes and the reserved seats are mentioned below:
Medical and Dental Colleges in Punjab: 76 seats (reserved by Provincial Government) (Only Punjab Domicile)
Khyber Medical College, Peshawar: 2 Seats (Only KPK Domicile)
KPK Agriculture University, Peshawar: 2 Seats
P.A.F Colleges / Schools: 128 Seats
Fatima Jinnah Dental College, Karachi: 25 seats (along with 15% discount in tuition fee)
Bahauddin Zakariya University Multan (Under Graduate & Post Graduate programs): 125 Seats
The University Of Agriculture, Faisalabad (under degree program): 22 seats
Warsak Cadet College (Peshawar) reserved on its own: 15 seats
University of Education, Lahore: 133 seats
Government Swedish Pakistani College of Technology, Gujarat: 01 seat
TOTAL seats: 530
Eligibility Criteria for applying
(1). The applicant must hold foreign nationality.
(2). Applicant must have passed Higher Secondary School or equivalent examination (minimum 60%) with the following combinations of subjects:
a. For MBBS / BDS / Pharm-D: English, Physics, Chemistry, and Biology.
b. For B.Sc. Engineering: English, Physics, Chemistry, and Mathematics
c.The student hopping for admission should not have a study gap of more than two years after passing his/her HSSC or Equivalent Examinations.
4. Further Requirements for admission in MBBS/ BDS:
The applicant has also either passed the entrance test of the concerned institution/admission board or passed SAT-II with a minimum of 550 marks in each subject i.e. Chemistry, Biology, and 3rd subject could be Physics or Mathematics.
2. Valid TOEFL or IELTS with a score of 500 or 5.5. (Not applicable for those students whose medium of instruction is English at HSSC level).
3. For admission in NED University of Engineering & Technology, Karachi, the candidate has also either passed the entrance test of the NED University or passed SAT-I and SAT-II in Mathematics, Physics & Chemistry examinations with minimum of 800 and 1500 marks respectively.
Terms & Conditions
1. 4 sets of application form typed or printed shall be submitted and each form must be accompanied by attested copies of the following documents:-
(a). Certificates or Marks Sheet of HSSC / equivalent examination.
(b). Equivalence Certificate from Inter Board Committee of Chairmen (IBCC) Islamabad where applicable.
(c).Recent Photographs (should be pasted at each form).
(d). Copy of foreign Passport of the applicant.
(e). Proof of Pakistani Origin i.e. Pakistani Passport / National Identity Card / Registration Form etc. (if applicable).
(f). NOC issued by the home country for studying in Pakistan (not applicable to applicants from Pak origin).
(g). Result of SAT-II or entry test
2. Selection of the students against the seats allocated to foreign students of Pakistani origin will be made purely on merit to be determined by Higher Education Commission Islamabad on the basis of marks obtained by the students in Higher Secondary or equivalent examination. However, the final selection will be made by the institutions concerned after examining the original documents.
3. Foreign students admitted under this Scheme will pay the tuition fee and other dues directly to the institution concerned at the rate prescribed by the institution without any relaxation.
4. The documents received on fax will be considered only if its original copies are received subsequently within the due date.
5. The application will not be entertained due to any of the following reasons:
(a). If the application is incomplete or not properly filled in.
(b). Received without attested copies of the requisite documents.
(c). Not received on the prescribed application form.
(d). Received after the due date.
6. Migration from one University / College to any other University / College will not be allowed without the consent of institutions concerned and approval of the Higher Education Commission.
7. Applicants will not be allowed after admission to change their discipline and to claim exemption of tuition fee and other dues.
8. Students who do not fulfill the requisite criteria need not apply. Ineligible students even if admitted are liable to expulsion at any stage and the Higher Education Commission does not accept any liability whatsoever in this regard.
9. The above rules shall be applicable to all foreign students admitted under Self Finance Scheme.
10. An overseas applicant cannot seek admission in any educational institution in Pakistan with a Tourist or Visit Visa and is liable to be deported by the Government of Pakistan as per regulations, for which College will not bear any responsibility. Overseas Seats in Pakistan for Medical colleges.
How to Apply for overseas in Pakistan
Foreign nationals should send their applications on the given form to Assistant Director (Academics), Academics Division, Higher Education Commission, Sector H-9, Islamabad, through the Embassy of Pakistan in their respective countries or through Embassy of their own country in Pakistan.
Applicants of Pakistani Origin may submit their applications directly to the above-mentioned address or through the Embassy of Pakistan in their respective country or respective Embassy in Islamabad.
Interior Ministry confesses that there is no prescribed procedure for the education of foreign students in madrassas. ISLAMABAD: Around 2,673 foreign students from 37 countries are studying in Pakistan.
The aptitude test or interview will be held according to the date, time, and place intimated by email to the applicants after receiving their applications for admission.
General Requirements
Age limit: There is no age limit for admission in MBBS/BDS program.
Marital status: Marital status does not affect the selection.
Fitness: The candidate should possess adequate mental and physical health to continue his/her course of studies.
These are the complete details about overseas in the medical college in Pakistan. If you have any query regarding this you can ask in comments.