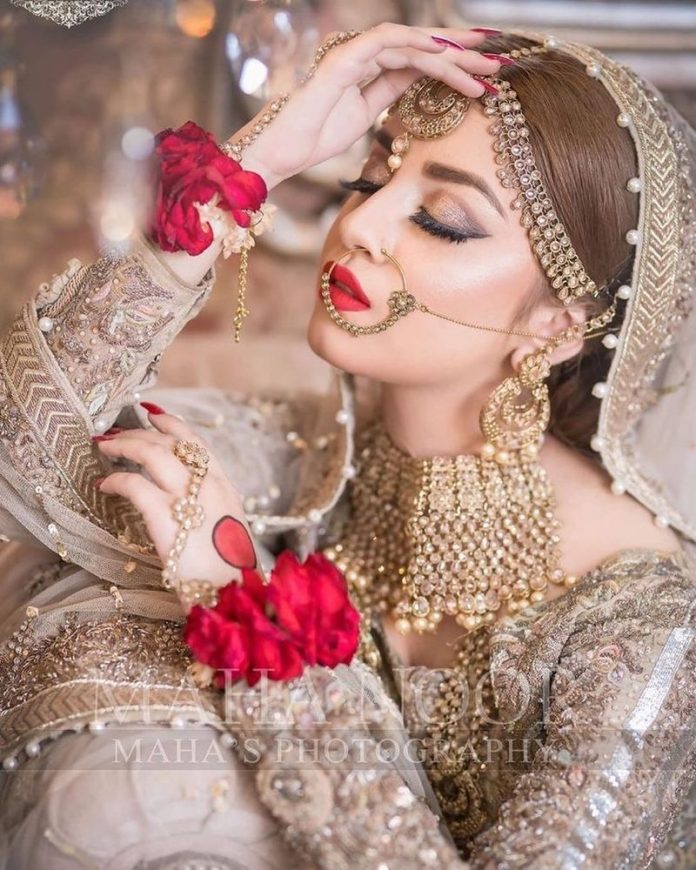 Pakistani Traditional Jewelry: The bridal costume of Pakistan includes Traditional jewelry and makeup. Pakistani bride must wear on her wedding day. Before some days of the wedding.
Pakistani brides change her focus of everything to her appearances through captivating jewelry. That jewelry which defines her status symbol and innovative mind.
Marriages are the utmost festivities of love, sophistication, and fun. Everything about marriage, starting from the theme, is of countless significance to making the day memorable.
Pakistani Traditional Jewelry for Brides
The list of Essentials of jewelry is as follows,
Maang Tikka for Pakistani Bride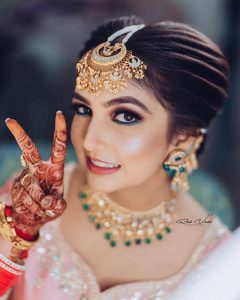 Maang tikkas come in many types and designs; you can select one by keeping in mind the nature of your forehead. If you have a wide forehead, a heavier tikka will look mesmerizing. If your forehead is smaller than average, a lighter maang tikka will look beautiful and graceful.
Matha Patti for Pakistani bride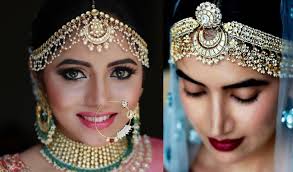 Matha Patti is alternate to the mang tikka. it is to give out the royal look and is without a doubt must-have jewelry piece on your wedding day. Every bride has her own taste and choice, so she wants to look perfect and stunning on her big day.
The one, two, or three-layer Matha Patti is also available, which gives you royal attire.
Nose Ring for Pakistani bride
if you want a traditional look, this accessory will make you an amazing bride ever. The good news is that you should not pierce your nose to be able to carry them on your big day, clip-on nose rings that look just as ethnic as the others are available today.
Earrings for Pakistani bride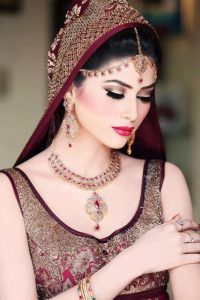 on Nikah, light gold jhumkas, on Mehndi, the flower earrings, on Barat the moon style earrings, and on Walima the elegant light colored earrings are becoming a trend.
Your earrings should complement the necklace and other jewelry, but need not essentially be heavy.  Having to be sure of your comfort level, you can research the designs.
Kangan & Bangles for Pakistani Bride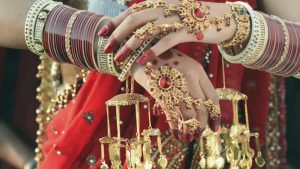 There is no absence of amazing bangle designs in Pakistan. Be it the chooda, or polki bangles from the north or the traditional Kangana, you have plenty of designs to choose from.
To look traditional, kundan bangles are in fashion on Mehndi and the gold ones on Barat.
Necklace
Many jewelry designers are recreating the old fashioned jewelry pieces and they all are becoming very popular among the Pakistani brides. There are many forms of necklaces to choose from, depending on your taste in jewelry and the overall theme of your bridal look.
Rani Haar for Pakistani bride:
a Raani haar is significantly longer and majestic. A Rani Haar has various layers and an exquisite pendant. Many jewelry designers are recreating the old fashioned jewelry pieces and they all are becoming very popular among the Pakistani brides.
Jhoomar for Pakistani bride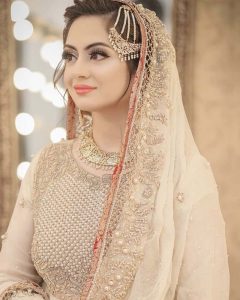 The polka and gold style Jhoomar believes to give you the Mughal era touch. The brides nowadays, wearing Jhoomars on their Nikkah along with nose rings, which makes them enhancing their dress too.
Hath Pool for Pakistani bride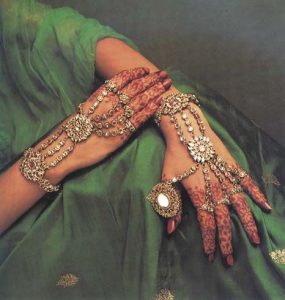 Hand harnesses bespangle your palm and adorn your fingers. They may be the most poetic pieces of jewelry to be crafted for brides.
Rings for Pakistani bride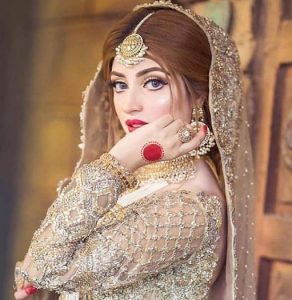 The rings are really every girl's dream to wear on her wedding. it's a wedding or not, girls wear rings on every occasion.  These heavy rings would work perfectly with your matching bridal jewelry and lehnga and add sparkle on your big day.
Anklet and Toe Rings for Pakistani Bride: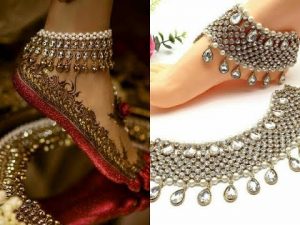 Anklet and toe rings are traditional and otherworldly. Anklets, paired with toe rings would do magic to your delicate feet. Anklets are a feminine essential as they transform your feet to classy.