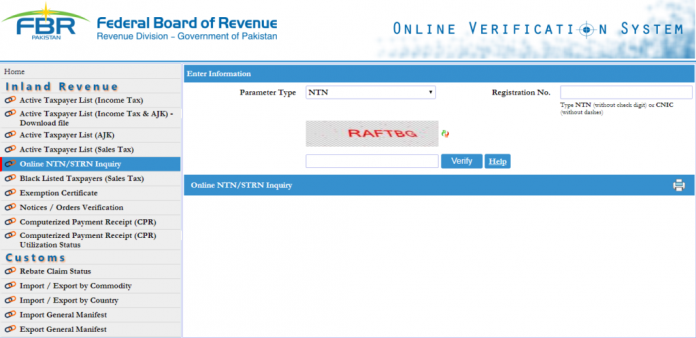 Here you can get a list of Pakistani companies NTN numbers with names. We provide you Local & private limited companies NTN numbers. In Pakistan NTN number is mostly used for Tax matters or registration of Annual Returns and new registration. NTN number is used for submission of withholding income tax, sale tax on a monthly basis. NTN Stands for National Tax Number in Pakistan. Every National Cardholder gets NTN for this you need to apply New NTN. NTN or CNIC is different from each other. Every salaried person needs to apply for NTN because you need to give proof to the government you are a tax holder.
Let's start to get a list of Pakistani companies' NTN numbers that help you to add NTN numbers in your required data for annual Income Tax or Sales tax returns.
How to Find NTN Number Through CNIC
Please verify online from the official government website about NTN is correct.  NTN is compulsory because without NTN you can't submit your monthly withholding and sales tax return. You are Tax Payer you need to submit your annual return but in Pakistan, most of people deduct monthly tax from salaries but not deduct tax.
Pakistani Companies NTN numbers
| | |
| --- | --- |
| Dua & Co | 42301-6766898-5 |
| Home Catering | 2411064-7 |
| HRSG Outsourcing Pvt Ltd | 2829881-7 |
| Al Khawar Traders | 2454070-6 |
| Ozee Advertising | 4239352-3 |
| A & A Company | 1464660-9 |
| AHB General Suppliers & Services | 7572864-3 |
| Haris Enterprises | 2227012-4 |
| Triangle Automobile & Engineer | 0896032-1 |
| Techno-Chem Enterprises | 0988340-1 |
| Offset Printing Co | 4163387-3 |
| Mascon Enterprises | 3184096-5 |
| Faisal Auto Parts | 1853313-2 |
| Al-Jalil Goods Carrier | 2145414-7 |
| Bollore Logistics Pakistan Pvt Ltd | 3332013-6 |
| Multinet Pakistan Pvt Limited | 1205953-6 |
| Pakistan Mobile Communication Ltd | 0802694-7 |
| Premier System Pvt Limited | 0676280-8 |
| Toyota Southern Motors | 1055946-9 |
| SGS Pakistan Pvt Limited | 0712048-6 |
| Quality Aviation Pvt Limited | 1358866-4 |
| Honda Gateway Pvt Limited | 2279624-0 |
| United Registrar of System | 0859490-2 |
| Tipu Associates | 1339548-3 |
| Fatima Consultant & Engineering | 1051536-4 |
| MJ & CO | 4383298-8 |
| Toyota Ravi Motors | 2217519-9 |
| Suzuki Motorways | 1691422-8 |
| Hotel Margala Pvt Limited | 0656874-2 |
| The Arena Hotel DHA Multan | 2905795-7 |
| DHA Club Pvt Limited | 3981488-2 |
| GSF International Services Pvt Limited | 306685-8 |
| Pearl Continental Hotel Karachi | 0822910-4 |
| TCS Pvt Limited | 0712355-8 |
| Arabian Sea Enterprises Limited | 0700949-6 |
| Fist Security Pvt Limited | 2076965-2 |
| Zifan Hotels | 7983133-7 |
| M&P Express Logistics Pvt Ltd | 0860540-8 |
| Active Communications | 2532535-3 |
| Netsol Connect Pvt Ltd | 1414814-5 |
| MashAllah Electric & Cooling Center | 7854400-1 |
| Pestgon Enterprise | 3423343-1 |
| Sohail Ahmed | 7495670-2 |
| Danyal Engineering | 4234397-6 |
| Paperclip Pakistan Pvt Limited | 7554216-3 |
| Pakwel Equipment | 3336899-6 |
| Shophive | 2064858-8 |
| Promo Sight Advertising | 2679888-3 |
| Faisal Sameer Engineering Works | 3049830-9 |
| Multi Décor | 42201-7983056-6 |
| Mansha Brothers | 1461250-0 |
| Regent Plaza | 0711522-9 |
| Brain Telecommunication Ltd | 1279677-8 |
| | |
| --- | --- |
| Ril Logistic Pvt Limited | 2899948-7 |
| Germany Pakistan Chamber of Commerce & Industry | 4293441-9 |
| Quality Aviation Pvt Limited | 1358866-4 |
| Velocity Pakistan | 8161983-0 |
| Global Eco Lab | 1179090-3 |
| Dua & Co | 8926742-2 |
| HRSG Outsourcing Pvt Limited | 2829881-7 |
| RICI Pakistan Pvt Limited | 4312223-0 |
| Cmpak Ltd | 0711579-2 |
| Grace The Guest House Islamabad | 1284195-1 |
| TCS Pvt Limited | 0712355-8 |
| Zifan Hotel | 7983133-7 |
| Brain Telecommunication Ltd | 1279677-8 |
| Tipu Associates | 1339548-3 |
| M&P Express Logistics Pvt Limited | 0860540-8 |
| Euro Holding Services | 4336283-4 |
| Netsol Connect Pvt Limited | 1414814-5 |
| LinkdontNet Telecom Ltd | 1215469-5 |
| DHL Pakistan Pvt Limited | P0816259-0 |
| Multinet Pakistan Pvt Ltd | 1205953-6 |
| Versatile Eng Services | 7543955-2 |
| Faheen Battery Traders | 5013949-4 |
| Climax Service Co | 7190273-2 |
| Toyota Southern Motors | 1055946-9 |
| S.A Enterprises | 8920322-8 |
| Faisal Auto Parts | 1853313-2 |
| Toyota Ravi Motors | 2217519-9 |
| AQUA Product Services | 1184950-9 |
| Blaze Technologies | 5556329-8 |
| Al Jalil Goods Carrier | 2145414-7 |