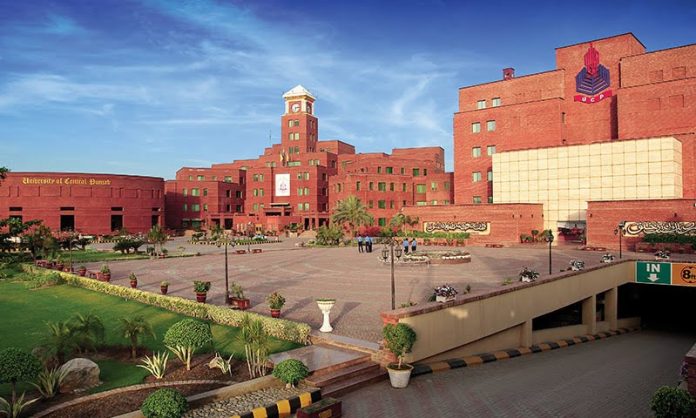 UCP admission for fall 2023 is open now. Limited seats are available so grab them now. UCP is the project Punjab Group of Colleges. It is one of the most top-rated universities in Lahore. They ensure their student's satisfaction level and provide each and every facility to their students. At UCP there are about 34 societies and clubs that provide the platform for co-curricular activities and enhance many soft skills of students.
UCP has many types of Labs where students will practice and enhance their skills. Almost every type of laboratory is present in UCP with modern equipment and Technology. UCP also have a courtroom where law students practice their skills. In this way, it enhances their student's skills.
University of Central Punjab UCP Admission
UCP Swimming Pool
have an indoor swimming pool which is free for all students. Everyone can spend his time there and can learn swimming with an expert swimmer without paying even a penny to it.
GYM
UCP also has a gym in it. Boys and girls both have separate gyms. It is also free. Trainers are also available there to guide the students. Student can spend their free time in a very creative way. The gym is open to everyone at all times.
Doctor Facility
UCP also provides a doctor facility to their students because they ensure their student's health. Any student can reach the doctor easily and whenever it wants.
Career Counselor
UMT provides career counseling to their students. It is one of the most important things of all. Many students are confused about the field that is it right or wrong for them. So counselors are available at every time to guide1 these students.
Teachers of UCP
UCP faculty members are all talented and experts in their fields. The teachers know the modern ways to teach their students. They also use modern technology like multimedia to deliver their lecture and ensure a 100% understanding of students. UCP's student-teacher ratio is 24:1
Library
The library of UCP has a very peaceful environment. It provides readers a perfect environment. There are about 63036 books in the library of UCP. It also provides ebooks to their students. The library has each and every book in it, every student can find a book according to his area of interest.
Scholarship
UCP provides many types of scholarships and facilitates those students who have financial issues.
Qarz e Hasna UCP Admission
UCP provides Qarz to needy students and assists them to complete their education without any hustle. The student should return this amount after completing his/her studies in easy installments.
Kinship in UCP Admission
Kinship scholarships are also provided by the UCP. In this, the students have to maintain their merit to continue it. Otherwise, they have to pay the full fee. The students of Punjab College is also given scholarships at UCP.
Merit Base in UCP Admission
Merit-based scholarships are provided to those students who have scored very high in their FSC.
Programs
There are many programs offered by UCP. Every new field is offered here. Everyone can find his area of interest. Some major fields of UCP are:
Arts & Social Sciences
Sciences
Business
Accounting & Finance
Engineering
Accounting and Technology
Media & Communication studies
Pharmacy
Life sciences
Law
Economics