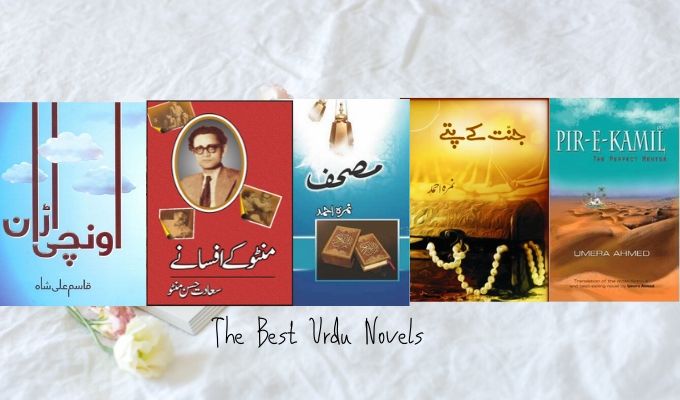 Here you can get 10 best Urdu Novels to read in Pakistan. Reading is something that connects you to millions of new people. You live several lives before you die. If you love to read Urdu novel then this is the place where you could find the best suggestions for reading. In this article, you will get the best Urdu novels.
Novels and books are like friends who don't complain and demand but help you in the best possible way ever. If you are lonely or depressed you should start reading good books. Many great people who were nothing at once, their lives are changed by food books.
Urdu literature is full of taste. You can get each type of writing. Our writers try there best to entertain their readers with good content. Once you start reading Urdu novels there is no way out. Reading is not just a hobby but it is an emotion.
There are a lot of good novels and hard to choose ten from so many. All writers such as Nimra Ahmed, Umera Ahmed, Parveen Shakir, Nadeem Hashmi, Altaf Fatimah, Bapsi Sidhwa, Bano Qudsiya, Shaukat Siddique, Ashfaq Ahmed and many more have given us rich taste of literature.
Following are top 10 Urdu novels written by tremendous writers;
Best Urdu Novels to Read
Pir-e-Kamil by Umera Ahmed
Pir-e-Kamil is the best novel. By the term, Pir-e-Kamil writer refers to tour beloved Holy Prophet (PBUH). The main characters of this story are Saalar Sikander and Imama Hashim. This novelist talks about the Qadiani sect and the journey of Imama from Qadyani to a Muslim.
The girl faced a number of problems and hurdles. This novel also has a sequel Ab-e-Hayat story of these two continue in that novel. There are so many twists and is full of suspense. This book is a must-read believe me. You are going to love this book.
Abdullah by Nadeem Hashmi
Abdullah is one of the finest novels of this novelist. He is the main character of the novel. It is basically a love triangle story. And it is also a story of the transformation of elite kids to good Muslims. In his way to his destiny, he experiences many hardships to achieve his goal.
He thinks about all the things happening to him and their connection with his real life. His feelings and his journey are breathtaking. You should read this novel for sure.
Dastak Na Doo by Altaf Fatima
Dastak Na Doo is something extraordinary. Altaf Fatima portrays this novel very beautifully. This novel is a story related to the partition of the subcontinent and behavior of foreign powers.
Gaiti and chinaman are the two main characters of this novel. This is not only a piece of literature; it is a compilation of life. In this novel, their journey and their emotions are explained so well. The ending is so smooth. This is something one should must-read.
Best Urdu Novels Raja Gidh by Bano Qudsia
Raja Gidh is a novel written by one of the best novelists. In this novel, she writes about Halal and Haram. She also writes about the ethical values and norms of society. The main characters are Seemin Shah and Aftab. Their love story and pressure of society.
Gidh is the Urdu word for a vulture and Raja is a Hindi synonym for a king. The name anticipates the kingdom of vultures. In fact, parallel to the main plot of the novel, an allegorical story of such a kingdom is narrated. Bano Qudsia's s novel stories are relatable.
Best Urdu Novels Mushaf by Nimra Ahmed
Nimra Ahmed is the finest writer. The name of this novel "MUSHAF" is the name of the Quran meaning "written copy of Quran". The story revolves around a girl named Mehmal Ibrahim. This novel writer gives us a very strong message that Allah almighty has given the Quran as a code of guidance.
The girl seeks an answer to every question by reading the translation of Quran-e-Pak. All hardships and difficulties come to end with a fruitful result. Nimra Ahmed with her writing motivates readers towards Islam.
Bachpan Ka December by Nadeem Hashmi
This novel is something related to real-life incidents. This story is something to which everyone can relate. A story of a boy who studied in Urdu medium and get a scholarship at Cadet College. He passed the CSS exam and became an officer.
A girl helps her from his thick and thin. The character of the girl faces a lot of hurdles. The novel also has that little cute mischiefs characters have done in their childhood. It is a good short novel and worth reading.
Umrao Jaan Aada by Mirza Muhammad Hadi
Umrao Jaan Ada novel setting is before the partition of the subcontinent. This novel is written with great proficiency. This novel is must Read. A little glimpse of this story is; Amiran (main character of this novel) was born in a noble family.
Later on, due to some circumstances, she became a prostitute and named Umrao Jaan novel proceeds with her life in that place and how she escapes. All the hurdles she faced and know about people's real faces. This novel is something extra overloaded suspense. Best story ever.
Jangloss by Shaukat Siddique
Jangloss is a great piece of writing. It is a story of two prisoners who escape from prison Lali and Raheem Dad. This story is set against the backdrop of central Punjab. The famous Urdu novel was written by a great novelist. It is a story of bitter realities written brilliantly.
It is like an authentic documentary about the feudalist system. Bribery and influence of great feudal. Feudal lords are gods within their small kingdoms and enjoy an absolute authority over the lives and deaths of their tenants. It's a reality written on pages beautifully.
Best Urdu Novels Bano by Razia Butt
Bano is a story of a young girl separated at times of partition of the subcontinent. How the girl reaches Pakistan after years. Her patriotic attitude towards the newly built state. It is also on aired on HUM TV as "Dastan".
It is something that every Pakistani should read. After reading this novel you will come to know about the struggles and sacrifices of people for Pakistan at that time. This novel gives its reader goosebumps.
Jannat Ky Pattay by Nimra Ahmed
Jannat Ky Pattaya is one of the best novels of Nimra Ahmed. It is a story of a guy named Jahaan Sikander and an ISI agent and a girl Haya Suleman. A story of transformation and a little glimpse of the life of an ISI officer.
It is a story of something that makes you feel inside that novel. This book connects with your soul. You start to live the characters. This book is out of the box.