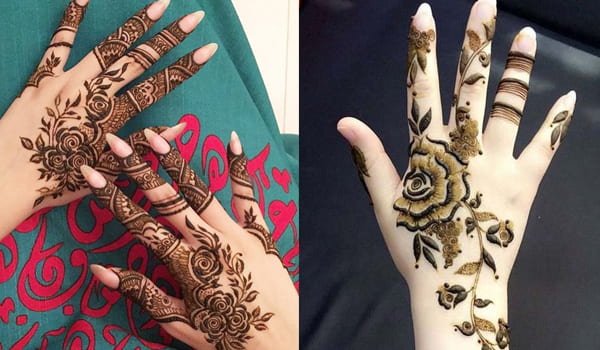 Rose Style Mehndi Designs: Mehndi has always been playing a super character in the life of girls. Being beautiful and looking beautiful is the only compliment that a girl wants to hear. She does a lot of therapies, a lot of works j, a lot of exercises and obviously a lot of beauty hacks treatment just to look beautiful.
There are many things that add beauty to the girl's little cute heads. In addition to all these beauty hacks stuff, another thing plays a major role. And that thing is the beautiful, adorable,, and charming floral designs of mehndi on their hands. No event and function go without applying mehndi for the girls. So in order to enhance the beauty of your hands, here we are going to tell you about some beautiful mehndi designs for 2024.
Rose style Mehndi designs
Rose is Just Rose itself. No other flower can compete for the beauty, elegance and of course the fragrance of that flower. Rose has to do a lot of matters in our daily life routine. Such as, we see the beautiful hand made or print or the sketches of rose at our household items, such as on the clothes. On the cutlery, On bottles covering labels on the posters of beauty cosmetics stuff, and a lot more. The plus point is girls also copy that idea of sketching rose in their applying mehndi designs. Many beautiful prints of rose are made in the mehndi designs by the professionalisms. So here we are going to show you some beautiful ideas of rose style mehndi designs for the girls in 2024.
30+ Rose Style Mehndi Designs for girls in 2024
Mehndi is the favorite part of styling for the girls. The mehndi should be as perfect as all of the other stuff of girls. And as pretty as their clothes. So the beautiful rose styles mehndi designs are given
1. Outline Rose Mehndi designs
Some girls apply mehndi on their hands with the darker outline and then filling the inner part with some other dark shade of mehndi. The specific shape of the rose is given to that flower that much resembles the Rose.
2. Shaded rose Mehndi
Shading mehndi styles are the latest in trend. Anr very few people know about how to apply this style of mehndi. Only the professionals know how to apply this type of mehndi.
3. Bridal rose Mehndi designs
For the bridal hands, there is a completely different design for applying mehndi. The professional mehndi designers know how to apply this type of rose style mehndi.