Nail Art Designs is something that can enhance your general beauty. There are some latest nail art designs for girls in Pakistan. In this article, you will find the latest nail art designs step by step to use nail art easily. Nail art designs are very popular, the creative and unique nail art work not only as an accessory but also adds uniqueness and beauty to the hands.
Little effort and creativity can make your hands beautiful or your personality graceful.
Girls Nail Art Designs 2023
list and description of the latest nail art is as follows;
Leopard Print Nails Design 2023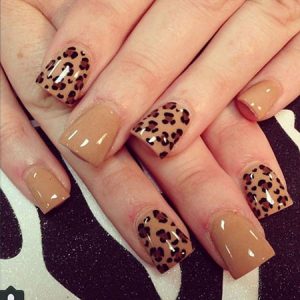 leopard print nail designs never go out of fashion. To make this design you have to follow some tips.
take two nail Paints colors of your choice.
Apply base color. Take a tooth Pick and dip it in the other contrasting color.
Make spots of different shapes and sizes according to design. Remove Extra Nail Paint with Nail Pain remover.
Holloween Nail Paint Design 2023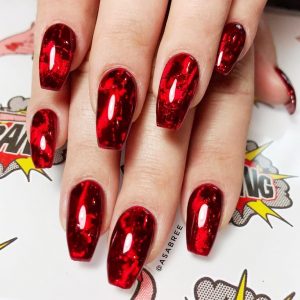 This blood-red nail effect is perfect if you're stepping out with the classic vampire costume. This Shinny Nail Paint gives an extra cool look.
Cool Metal Nail Paint design 2023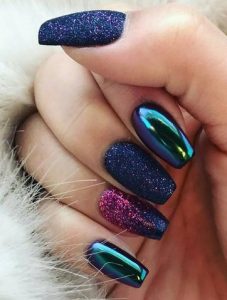 We know how many girls are addicted to cool metal nails and mirror nails. Mirrors and metal nail art in students are now more popular than any other nail art.
Two-Tone Nail Art design 2023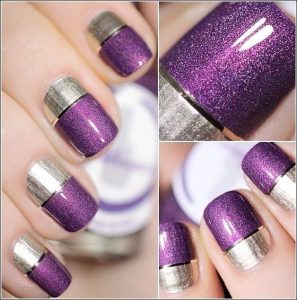 A two-toned nail art design is one of the easiest nail art designs that can be done at home without any difficulty and looks super stylish. All you need is two different nail paints and tape.
Polka Dots Nail Design 2023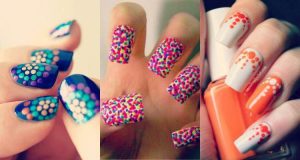 Polka dots are timeless classics whether on clothes, shoes, or nails. This is the most popular nail art design for functions. it looks super cool on college going girls.
Splatter Nail Art Design 2023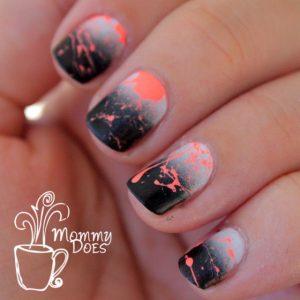 You should definitely go for this bold nail art design and be the center of attraction.Show your artistic skills through this design. Splatter Nail art design shows creativity and uniqueness.
Cherry Nail Art Design 2023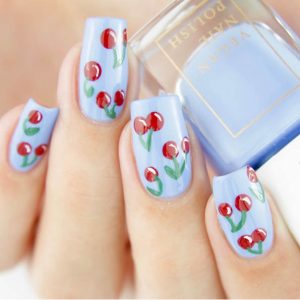 cherry nails look super fancy and cute. They look really elegant and appealing. in summers, none can be as appealing as cherry design.
 Bridal Nail Art Design 2023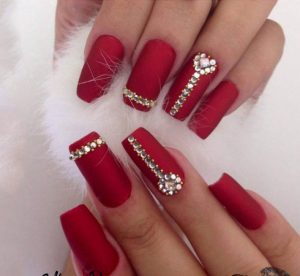 Bridal Nail Art Design help prettify your outfit and personality. if you want to look like a Dive on your wedding you should go for this design. Beads, stones or glitter there are numerous options to choose from and look extremely gorgeous.
Rainbow Nail Art Design 2023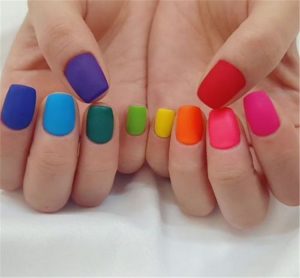 How about trying all major colors in a single nail art design? Rainbow nails with shinny colors look extraordinary so add some colors to your nails and look chic and trendy.
Glittery Nail Art Design 2023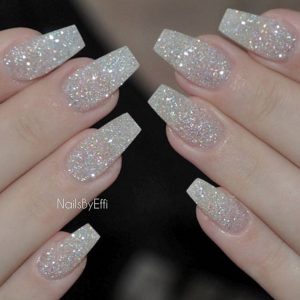 Glitter is known to add glamour to the overall look. Glittery nails can make you look like a total glam queen and make everyone fawn over your incredibly good looking nails. this design looks beautiful and trendy.
Jewel Encrusted Nail Art Design 2023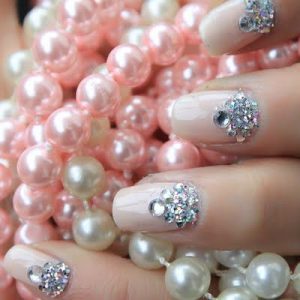 All trend-setting glam queens can decorate their nails by jewel-encrust and be the center of attraction at parties. Take some sequins,  pearls, glitter, and heavy-duty nail glue to embellish your hands with eye-catching nail art.