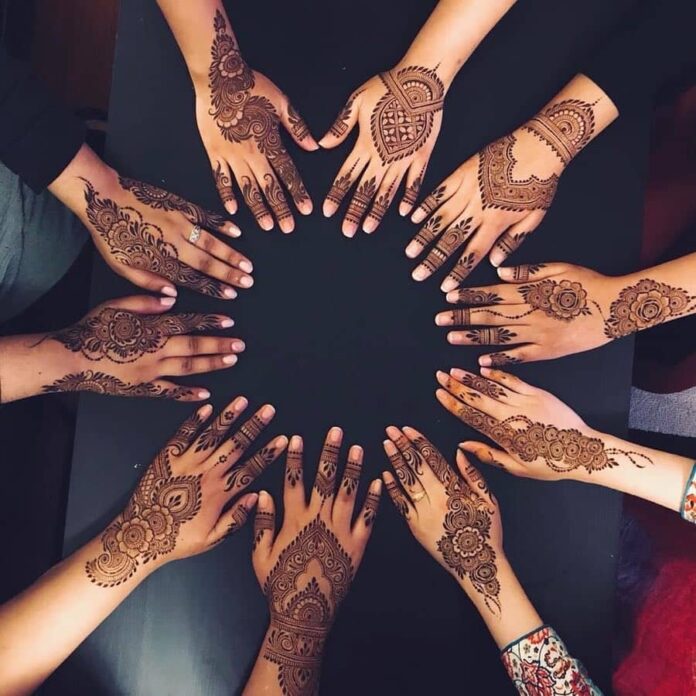 Latest Mehndi Designs for Girls: Muslim festivals are synonymous with catching up with family, wearing new clothes, and applying henna (Mehndi) on your hands. While the tradition of decorating your hands with Mehndi is popular during Eid-ul Fitr or wedding, but there is no strict rule about it. There are many styles of Mehndi designs like Moroccan mehndi pattern, Arabic Mehendi designs, Indo-Arabic Mehendi designs, minimal designs, full designs, and more. The trends are changing all time, but mehndi always stays in fashion. 
Latest Mehndi Designs for Girls
Mehndi is available in many colors now. Originally its color is red-brown. Mehndi enhances the beauty of hands and feet. It has been a part of the culture for a long time. Hence, you can see innovations in mehndi designs. So if you are looking for a mehndi design to match your occasion, you have come to the right place.
Moroccan Mehndi Designs
Moroccan mehndi designs are unique in its own beautiful way and the best part is that it is known for its unisex patterns. With the geometric shape, lines, curves along with tribal designs, the Moroccan mehndi designs have their irresistible charm and beauty. Besides those regular Mehendi designs, you can add this one to the list of best mehndi designs and flaunt your hands.
Western-Style Mehndi Designs
Western culture has also adapted the Mehndi trend, which is not at all linked with their culture or tradition. However, the henna tattoo in western-style mehndi is getting immensely popular. From geometrical shapes to all the quirky patterns, contemporary mehndi designs are worth to try as it comprises of all the patterns and designs.
Indian Designs
Indian style mehndi designs are already popular and stunning in design and style. For every age group, Indian mehndi designs have something to offer in their unique and intricate style. From front to back, there are some amazing patterns in Indian mehndi design including some prominent ones i.e. florals, chequered dots, trails, and other traditional patterns.
Pakistani Designs
Representing the values and traditions, Pakistani mehndi designs include leaves, floral, and a lot more like paisley patterns. Pakistani mehndi designs are intricate to frame as it has bolder outlines that look stunning when designed on hands.
Arabic Designs
Arabic mehndi designs are popular for their unique and aesthetic styling. Along with the perfect blend of bold lines and empty spaces. The designs and styling are a bit different from the regular Mehendi patterns. It is originated from the gulf countries. It has unique elegance and royalty, which is counted among the best mehndi designs.