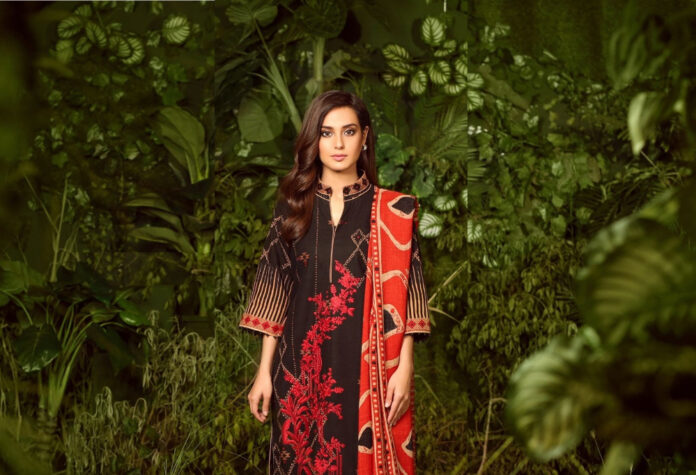 Latest Alkaram Winter Collection: Alkaram is among the famous clothing brands in Pakistan. Within a short period, the brand got popular for its designs and fabric. Alkaram always presents with the best quality stuff and attire. This winter, the brand has introduced a variety of clothing for every customer. Also, the persistent new designs and style propel the public to opt for it. As we all know that winter is a few days away, it is now time to revamp your wardrobe. Therefore, Alkaram has introduced a new winter collection at a reasonable price with extraordinary designs.
Latest Alkaram Winter Collection
This unstitched winter collection has all new fashion designs and color combinations. Through this winter collection, women can fulfill dreams and aspirations and make them prominent, among others. Here all the prints with prices are given below. The price range starts in PKR from 1,850. Therefore, in a reasonable price range, women can achieve global fashion trends with dynamic color styles. There are a variety of fabrics this winter:
Classic viscose collection

Karandi outfits

Khaddar dresses

Cocktail dresses
Along with these fabrics, you can find MAK, kidswear, and other collections as well. Alkaram has produced the best for its customers. So, run to your nearest Alkaram and take a look at the new collection.
Classic Viscose Collection
Viscose is a delicate and soft fabric. You can wear this fabric in the blistering winter sun. Women who enjoy light texture fabrics in winter can get different patterns and colors in this collection. Indeed, the viscose collection is beguiling and artistic. The classic collection has floral prints to rock every event. 
Karandi Outfits
You can captivate everyone's attention with a karandi outfit. The flattering dresses will add a beautiful glare to your character. Hence, you can enjoy your events gracefully. Let's grab this attractive collection at affordable prices.
Khaddar Dresses
Khaddar is a warm fabric for cold weather. This collection is mostly for middle-aged women. Therefore, the brand offers this collection at minimal prices. You can buy this collection throughout the winter season. It comes in bold colors and solid patterns. 
Latest Alkaram Winter collection
Hurry up! big clothing brand offering the big sale deals on entire stocks of men, women, and kidswear. Therefore, in this sale collection, all stitched and unstitched dresses for all family members are available at discount prices. Visit the nearest outlet or shop online Alkaram new winter clearance sale up to 50%. Therefore, this sale collection is applicable to all activewear, unstitched, and stitched collections of men, women, and kids' dresses. In Alkaram, new arrivals and all dresses range from unstitched to ready to wear, and Mak is included in this sale offer. Hence, this winter sale offer remains more than one month online and all outlets in Pakistan. Its big sale of Alkaram studio in 2023. Let's buy and enjoy the Alkaram winter clearance sale 2023.