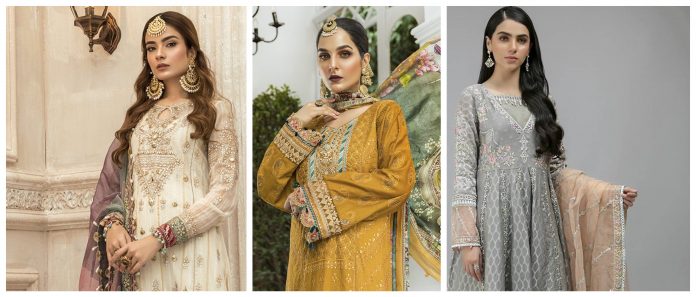 Maria.B. is one of the best clothing brands in Pakistan, founded by Maria Butt in 1999, Lahore. This brand serves a great variety of clothing and other accessories. At first, the brand didn't gain much fame, but now Maria Butt is the largest fashion designer of lawn, linen, cotton, formal wear, embroidered fabrics, Pret-a-porter, and couture. The headquarter of her brand is in Lahore, and other stores are available in different cities throughout Pakistan.
Maria B Latest Eid Collection
Maria B Outlets in Pakistan
Balochistan
Quetta
Khyber Pakhtunkhwa
Peshawar
Mardan
Sindh
Karachi
Hyderabad
Punjab
Islamabad
Lahore
Faisalabad
Rawalpindi
Multan
Gujranwala
Sialkot
Bahawalpur
Sargodha
In 2014, Maria.B. signed a deal to incorporate with the Austrian giant, Swarovski in their lawn and embroidered collection. This collection was launched in August 2016.
Maria B Eid Collection 2024
If you want a variety of clothing for your Eid collection, then what are you waiting for? Grab your cellphones or laptops and see the magical Eid Collection of Maria.B. Order your favorite dresses before the 24th of July otherwise, your orders will be delivered after Eid-ul-Adha.
This Eid Collection includes MARIA.B. Lawn, EMBROIDERED fabrics, and Umeed-e-Noor Vol.2.
Lawn Eid Collection 2024
This collection includes a complete variety of out-class unstitched lawn suits with proper designs. These suits are eye-catching for the viewers and are at the top-list of buyers.
EMBROIDERED fabrics Eid Collection
On every occasion, a woman wants to wear something new and different for a complete look. So, this Eid try this new collection which includes unstitched luxurious suits for women with perfect dazzling embroidery.
MARIA.B. اُمیدِ نُور Eid Collection Vol.2 Ready To Wear
This impressive collection includes all the ready to wear dresses. These dresses are full of splendid designs and wonderful color combinations. Most importantly, there is a great variety of dresses. One will surely pick any one of them to make her Eid wonderful.
Conclusion
This Eid Collection is outstanding to consider for your Eid day. The diversity of designs, fabric, and colors is a complete package to choose a perfect dress for your occasions. Visit the online store or nearest outlet to buy your favorite one.
For the latest information and trending stories, visit our site https://story.com.pk/