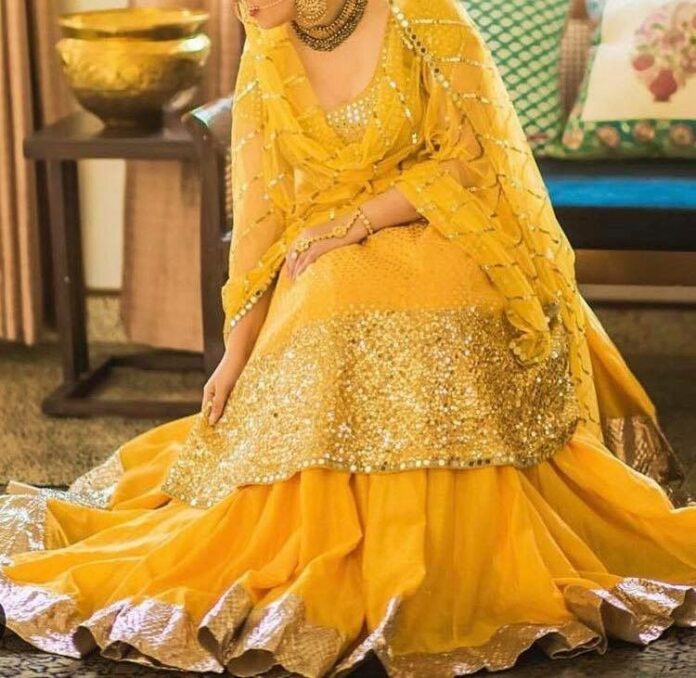 Mehndi yellow dress design in Pakistan: A Mehndi function is the start of the wedding rituals in many cultures. Mehndi functions start with the arrival of mehndi, oil, and sweets from the groom's side. The bride usually wears a yellow colored dress. Guests come up the stage and put mehndi on her hands. Usually, a leaf or a decorative sheet is placed on the bride's hand to prevent staining. The guest put oil in the bride's hair and feed her sweet. They give her a lot of prayers for her new life. 
These days, the Mehndi ceremony is a fun-filled day, with song and dance performances. The women's relatives get the latest henna designs on their hands and feet. The bride has already had her bridal mehndi (often across her hands and feet). This function takes place in a colorful venue. It requires a specially curated Mehndi songs playlist, choreographed dance performances, and comfortable clothes.
What to wear for your Mehndi Ceremony
Mehndi Yellow Dress Design
Think spring colors! Pastel shades of yellows on one end and firey colors like orange, green, blue, and pink on the other are evergreen ideas when it comes to your Mehndi function dresses. Hence, you can also mix other colors.
The next step is to top these beautiful dresses with flower jewelry. You can wear fresh flowers or artificial flower jewelry. On this function, you could go over the top with a large-size Maatha Patti, earrings, necklaces, armlets, cuffs, and even anklets. Hence, you may also go for silk thread jewelry and Gota Patti jewelry.
Therefore, to complete the look, you can add any statement to create your unique style. Finally, match and coordinate with your groom, best friend, or soul sisters. The pictures will turn out amazing. 
In conclusion, a mehndi function is a point of delight, tradition, and beauty, with emotional touches. We hope that this island of fun adds many more memories to your wedding experience.